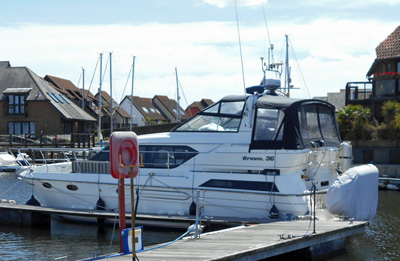 sat at her Hythe Berth,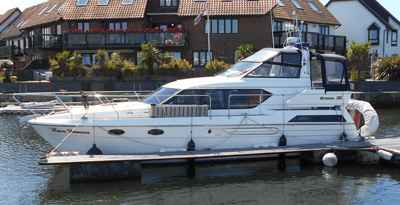 on a rather nice Hammerhead pontoon, she will always look like a well proportioned motorboat.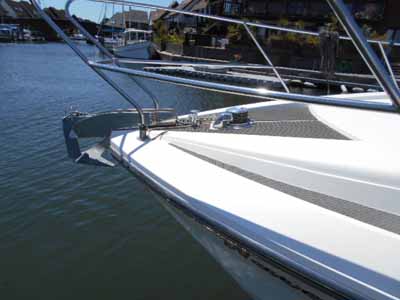 Electric windlass, to Bruce anchor, deck and helm controls, Diamond Pattern Treadmaster give sure footing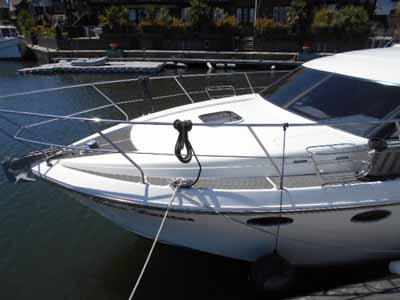 Good tall double Rails,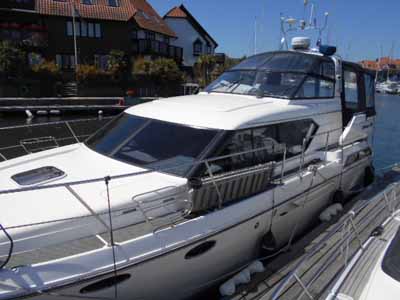 foredeck hatch to forward cabin,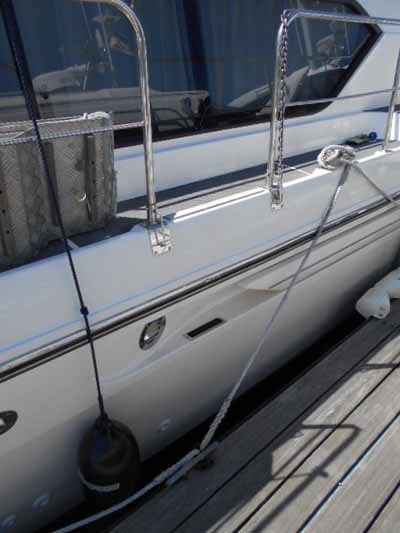 side gates both sides, with tread in air intake slot mouldings,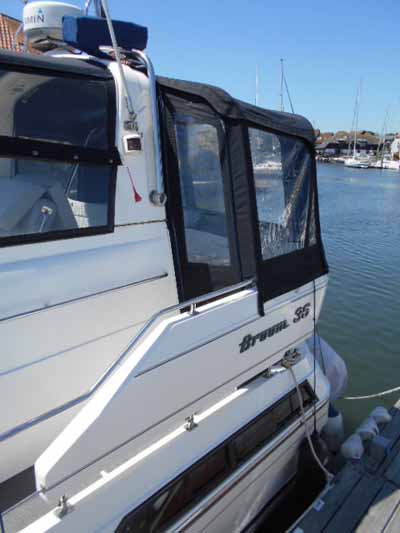 smart GRP combings all round aft end, fairly recent aft complete canopy option,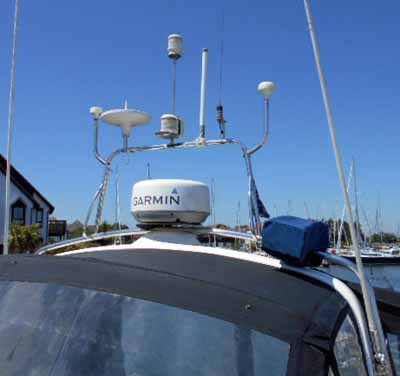 all kit is mounted on the BIG stainless hoop, which can lower , so lowering everythinbg at once.. brill up river,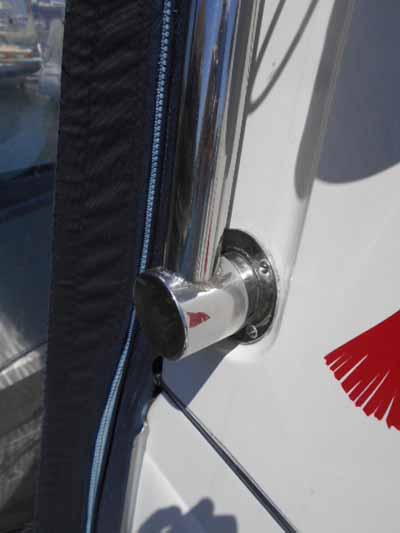 hinge points to Hoop, The GRP arch will also drop to get air draught right down to 2.83m if required so can do virtually all french canals..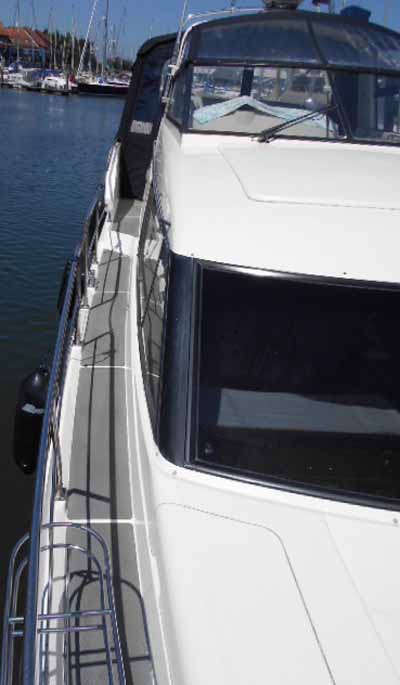 starboard side deck, note as usual FULL engine removal hatch over saloon, Not that you hope to need it, but broom make it easy if the time comes.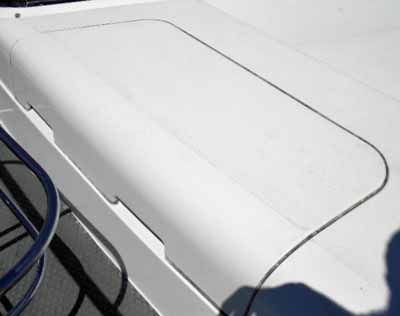 also very sensible design for rough weather .. static deck vents are shrouded over, so there is virtually no chance of water ingress , even pushing your bow through a line of beakers off a headland etc.
Aft end, easy steps, from platofrm to aft deck, dinghy hanging aft on ropes, its so easy, you just pull it over and strap on transom,
note the extending arm davit foot bolts, ( 6 nuts) not sure they still exist,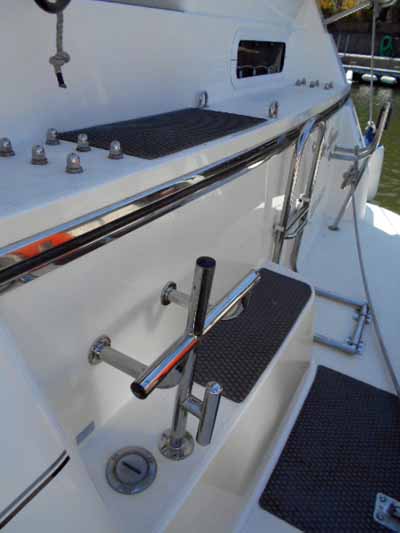 better view, also the frame in foreground works as a cleat as well as a mounting point for the gang plank which can mount aft or running to side of boat,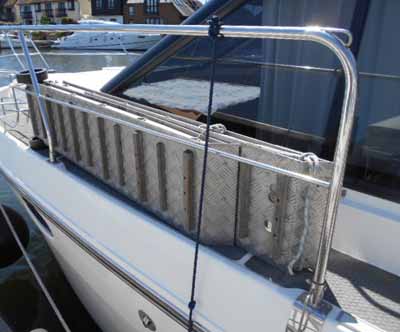 said folding alloy Gang plank.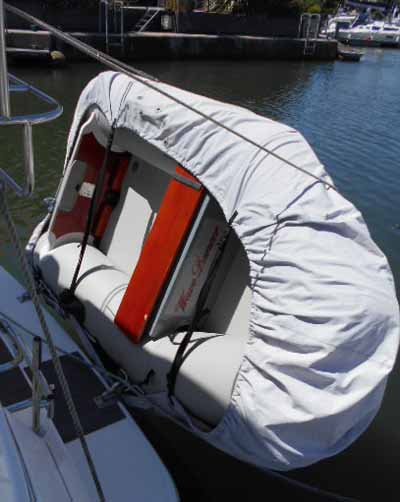 smart recent inflatable with a neat cover, mounted on Snap davits

whoops, Ive distorted this photo of deck layout! but you get the idea..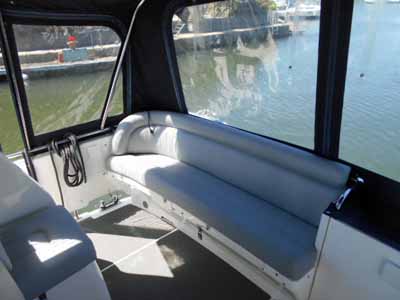 aft seat with smart recent grey upholstery, ( water proof) and here you can see that the canopy windows are good., ( Lockers under)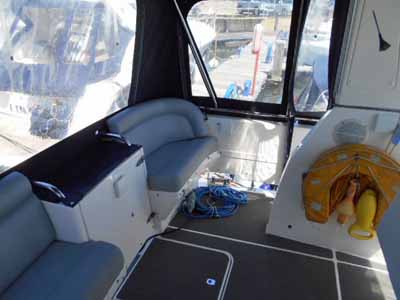 view across to portside, transom gate and steps left, with cover flap that seals top gap. and aft cabin escape hatch in floor,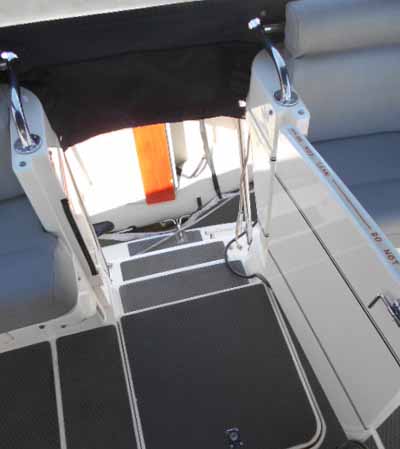 gate down to Transom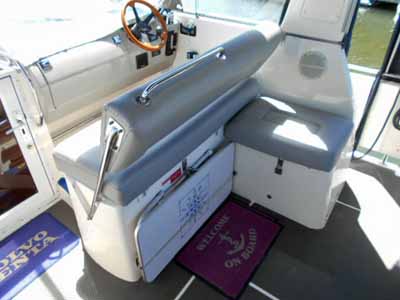 bench helm seat with small seat aft, lockers under all, loose aft deck table stowed
seat back will "flop" forward...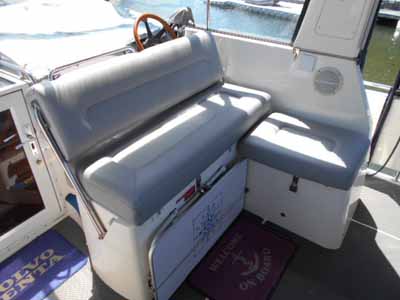 face aft,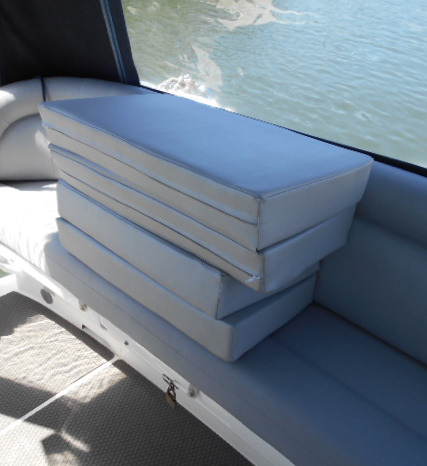 a number of smart Folding Infill cushions , for lower dinette, but also useful on helm seat to stand at wheel with back support, or just bolster your height.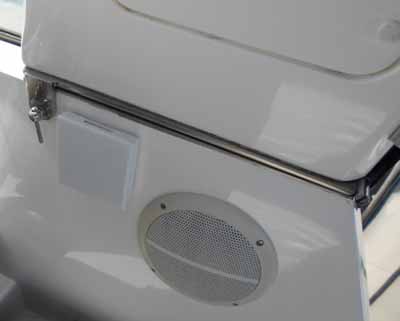 external stereo speakers, drinks holder, and Arch strap hinges ,,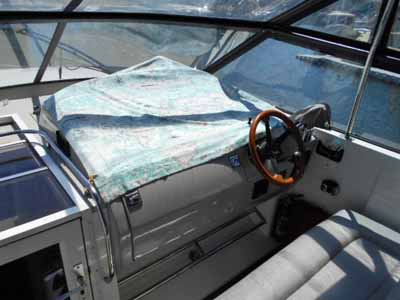 helm and Dash have covers,,grp cover left of wheel locks on or when lifted free has a proper stowage position left of companionway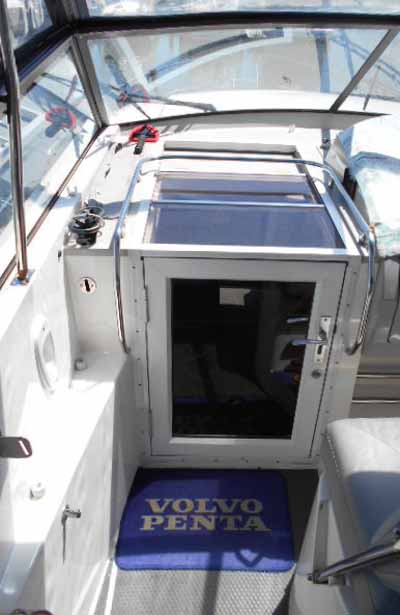 Cabin entry, and left that locker lid stowage brackets, for electromics cover,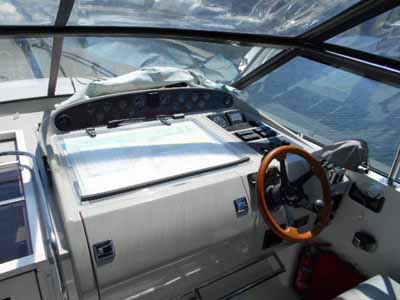 chart space.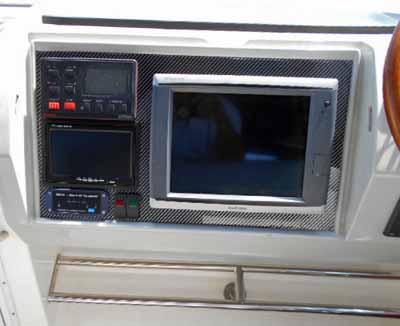 Garmin Plotter / Radar screen, ( few years old, )autohelm Pilot head, Engieroom camera/video screen, Recent and AIS transponder at bottom also recent
Note The Carbon fibre finish, the dash has been replaced in here and also at top console panel.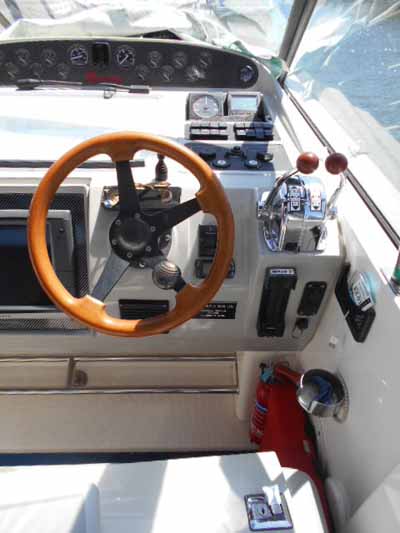 nice simple Morse single levers, simrad VHF cradle below, and two 12v sockets, bow thruaster joy stick (through wheel)
twin rail stainless foot brace bars at floor,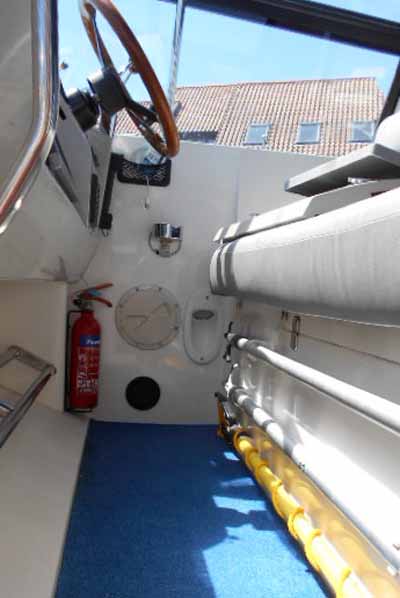 heater outlet local, very nice, and static aft cabin vents right of white inspection hatch

General layout, again forgive slight distortion..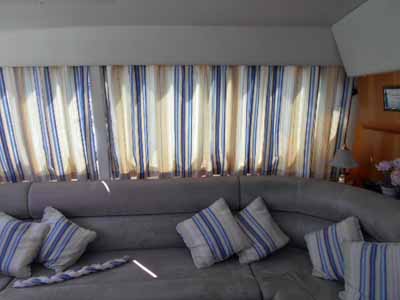 recent curtains and scatter cushions are bright and light.
recent Grey Alcantara ( upgrade) upholstery still looks very fresh , table shown extended, with two loose stools ( extra to standard!)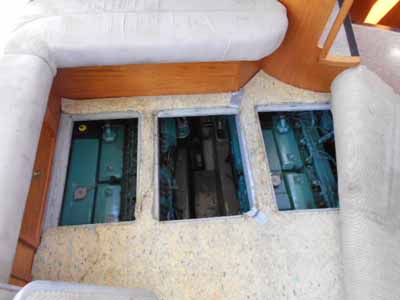 loose bound carpets, overlay all hatches, which have a heavy underlay, the WHOLE floor area will lift apart, but here are the three common access hatches.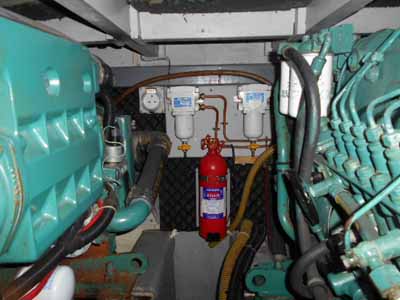 looking forward.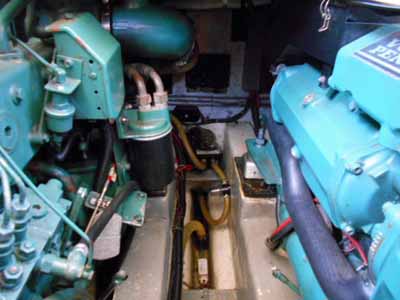 and aft,
recent filters evident,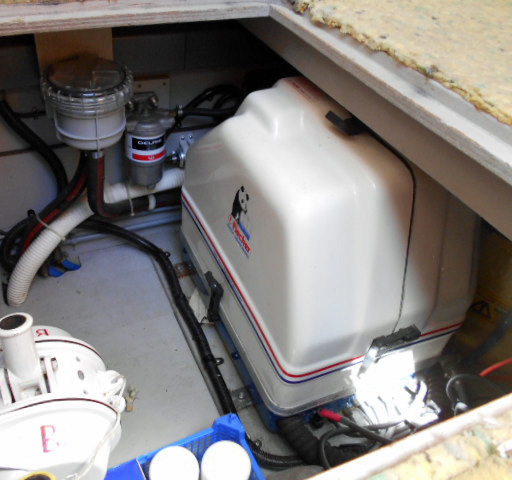 Fisher panda 4 KVA genberator, ( More recent than original but awaiting age.. in space forward of engineroom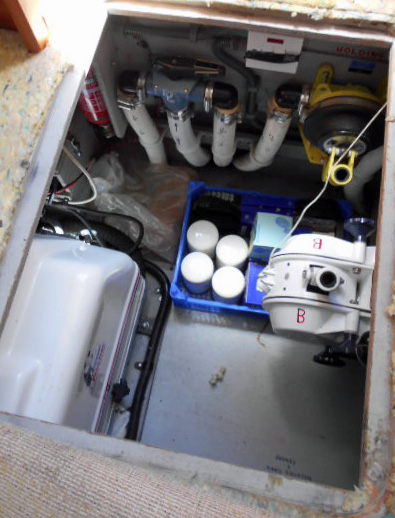 looking forward, manula waste tank pump and Y Valves,, note engine spares all to hand
Holding tank is under this floor,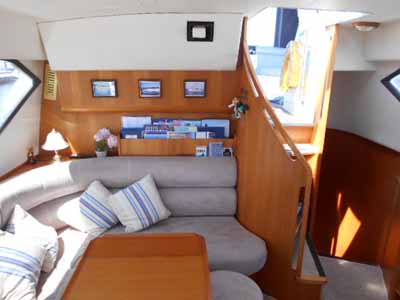 aft end of saloon, curved cold moulded stair surround is typical good boat building..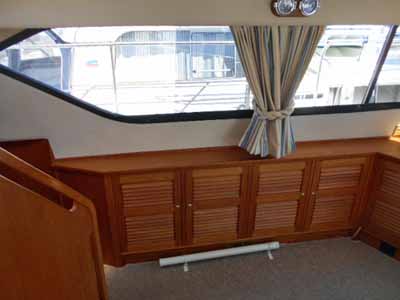 prt side REAL louvered Teak door, ( broom gave these up as they were so expensive to make.. but do still look very smart
and ofcourse , still vent lockers which was the idea.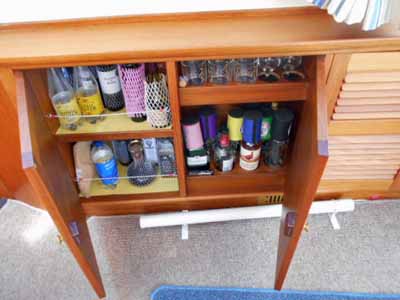 drinks locker
grab rail overhead, good lockers generally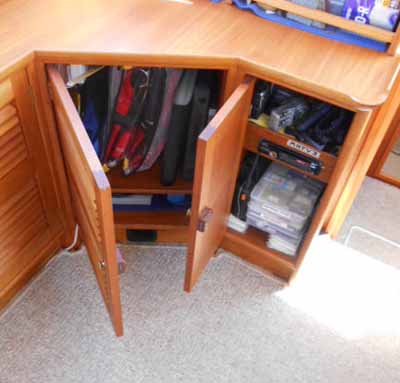 TV Cabinet, has all the ships papers and hand books in, and right nice recent CD stereo,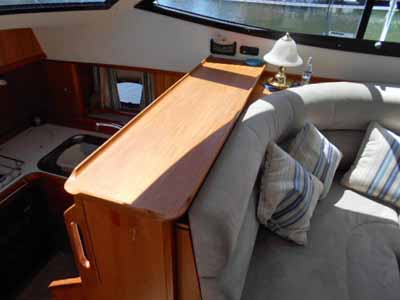 starboard side, central heating controls at end..left to galley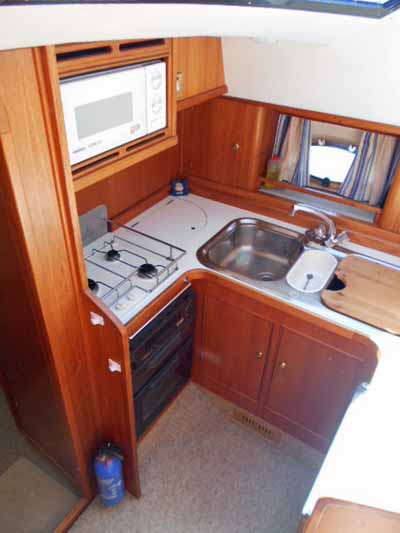 Galley under the screen so nice and bright,
fridge under counter, generator controls far end.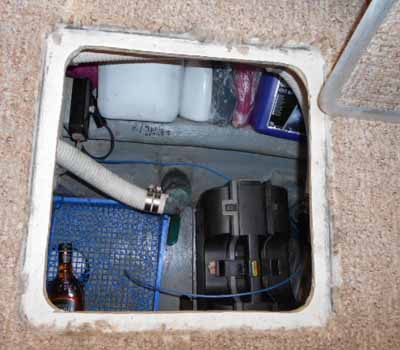 Under floor access to Toilet Seacocks, and auto-bilge pump fitted here ( extra) when sat at rest this is the deepest part of bilge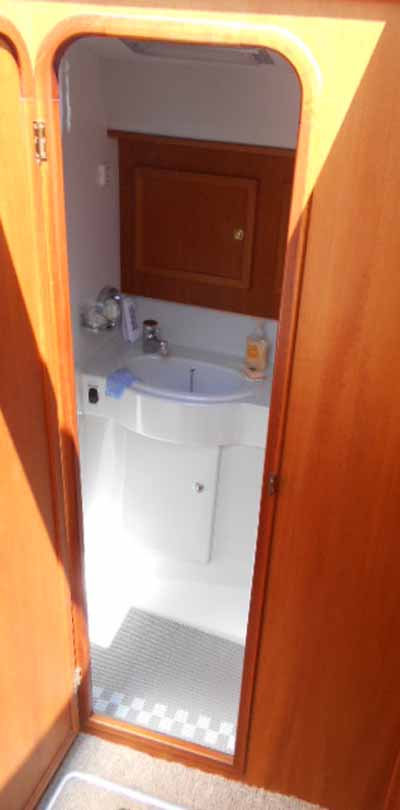 forward heads set to port,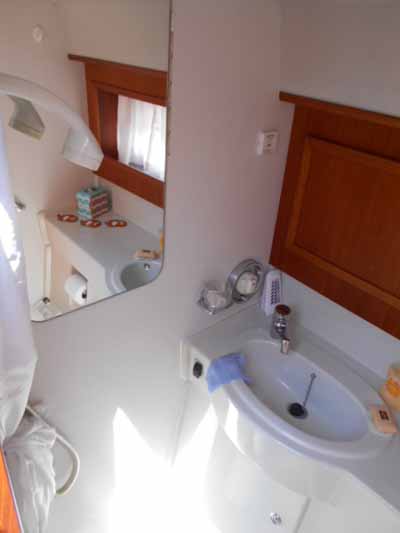 with shower option,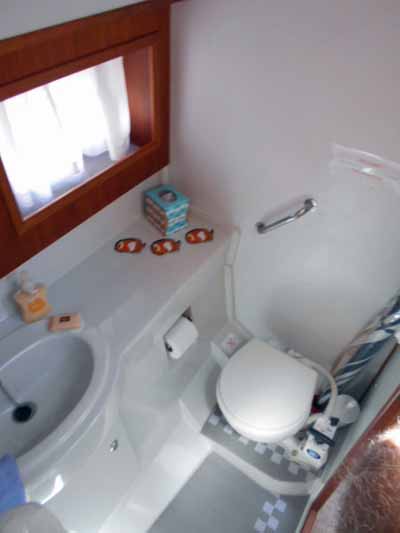 and manual toilet here, ( electric aft)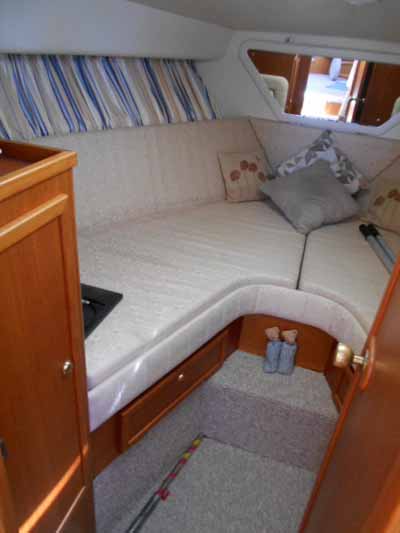 twin good single vee berths forward,
anchor locker access behind curtain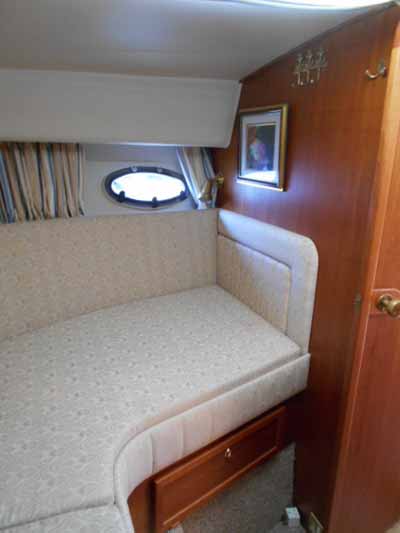 head of straboard berth, two opening ports, and hatch over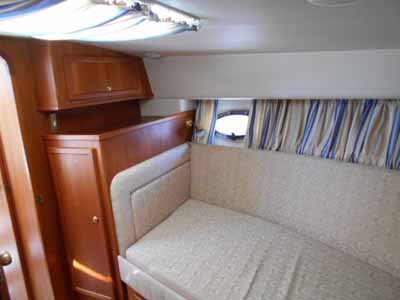 nice lockers and hanging space,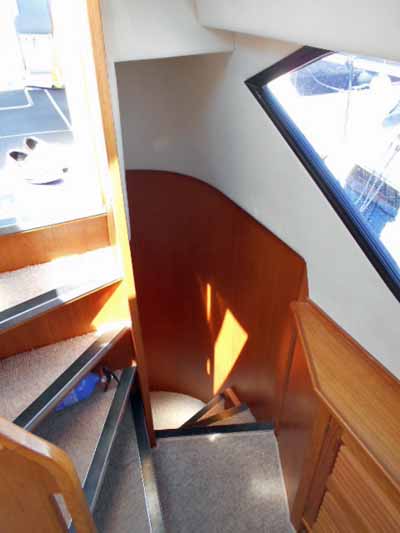 aft steps from cokcpit and down to aft cabin,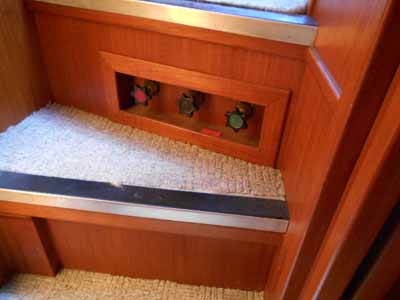 fuel feed taps under steps,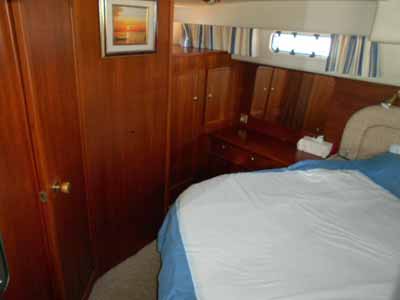 looking from cabin entry door, berth set at angle,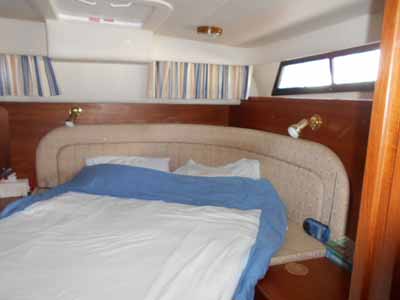 head in port aft corner, hatch over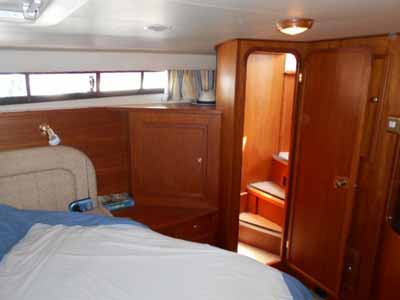 looking back to cabin entry, great lockers all round,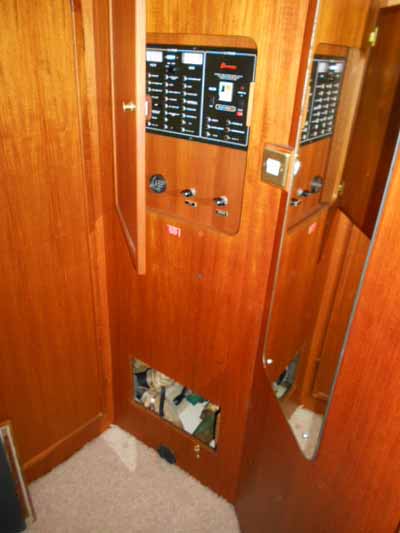 behind cabin entry door, domestic switches, as well as aft access panel to port engine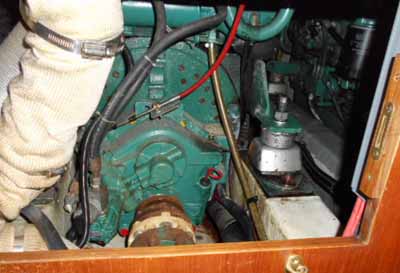 useful access aft here,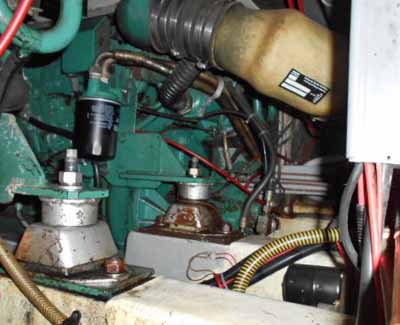 and you can look across to starboard aft as well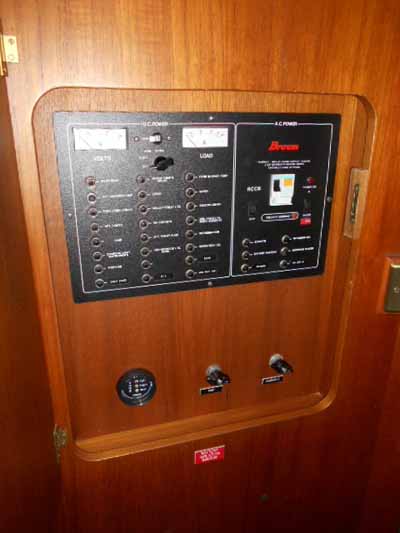 simple breakers board, with 220V board to right holding tank guage left bottom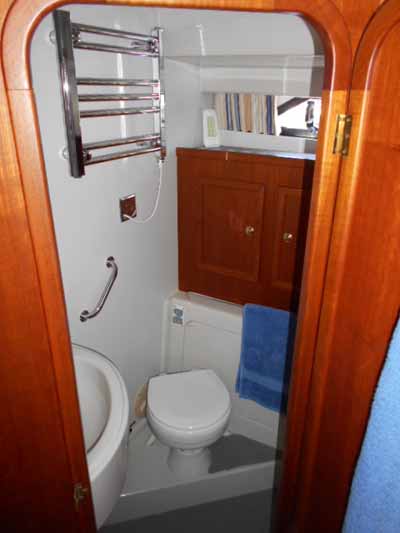 aft heads set to starboard forward in cabin, heated towel rails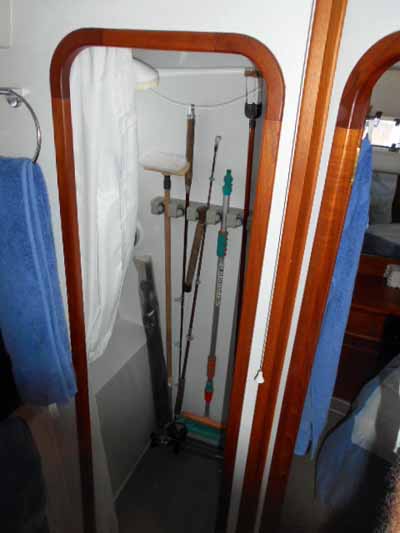 aft to shower cubicle with curtain over.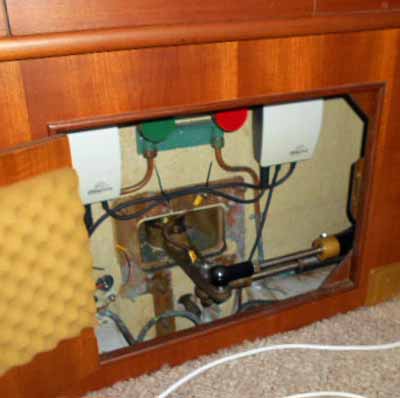 access to stern rudders, and greasers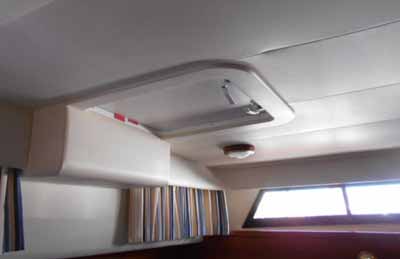 escape hatch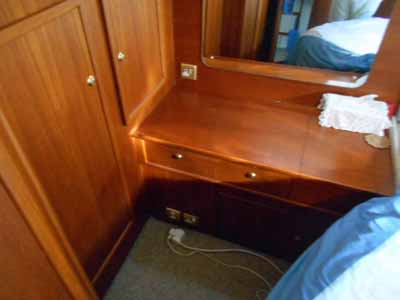 beautiful woodwork all round, this is aft to starboard side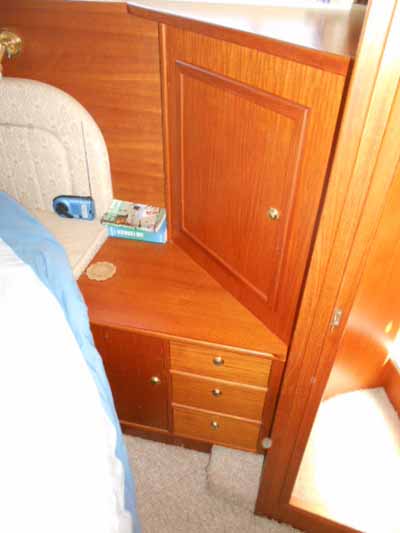 and this is aft to port side.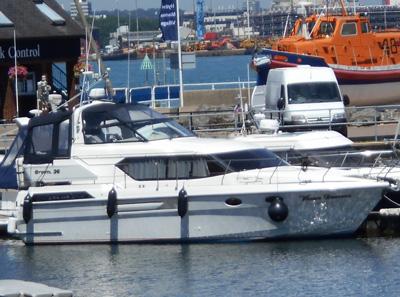 ready to go,