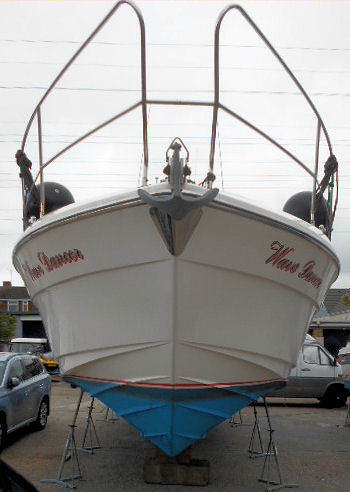 Nice conventional deep /medium Vee deadrise forward with three spray rails and double knuckle at chine. these pics obviously just before she was prepared and re antifouled.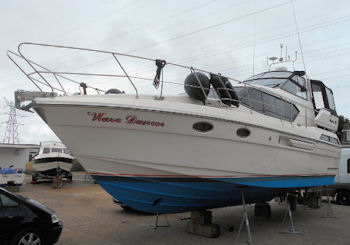 June having full underwater service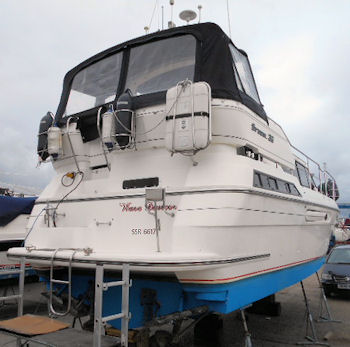 aft end, you can see auxillary outboard bracket, with liferaft cradle above,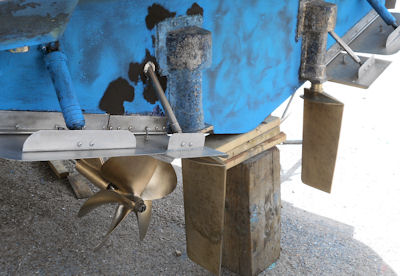 rudder posts run down Transom and note the additional Tam arrangments to keep extra control of her Nose trip, One fixed Tab one adjustable
with 640 odd horse power the additional trim ability is useful.
beautiful Five bladers in superb order,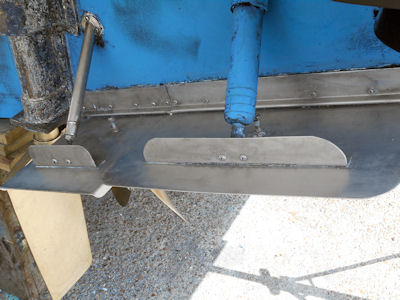 better view of the twin tab arrangment, the antifoul was obviously finished off, but the NEW anodes were to be put on everything first..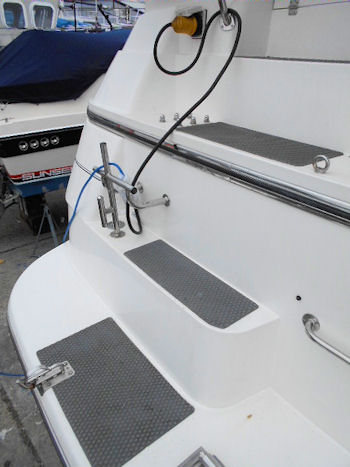 easy steps afts, with Treadmaster , note snap davits to platform, also the "T" bracket left that takes the Gangplank at various angles , you can also see 6 dome nuts under the power socket, where a davit shoe was fitted in the past.. these owners did not want the davits.. but easy to refit if you wished..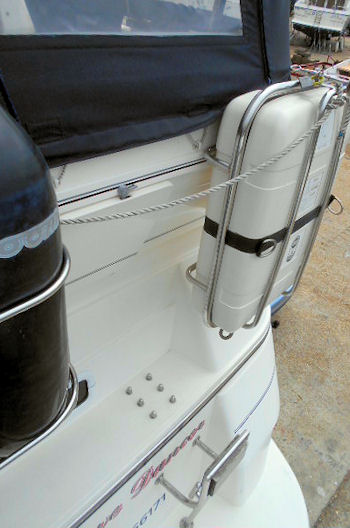 smart Liferaft cradle, raft service date unknown, note bracket below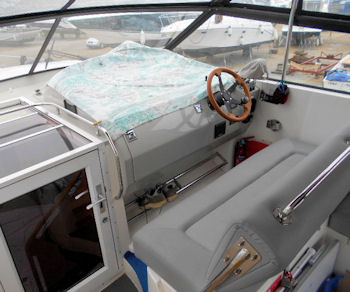 dash cover, and the big forward facing bench seat, will take three, at a push,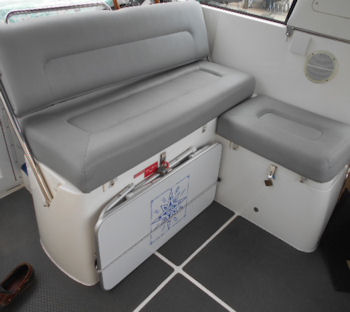 and the back rest will fold forward to face aft whilst in harbour if you wish, lockers under seats, Treadmaster over whole deck area,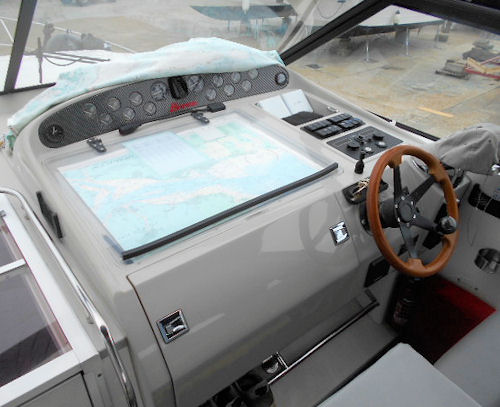 usual wonderful easy dash arrangement, area for paper chart, NEW carbon weave type dash panels fiited, grp cover locks over electronics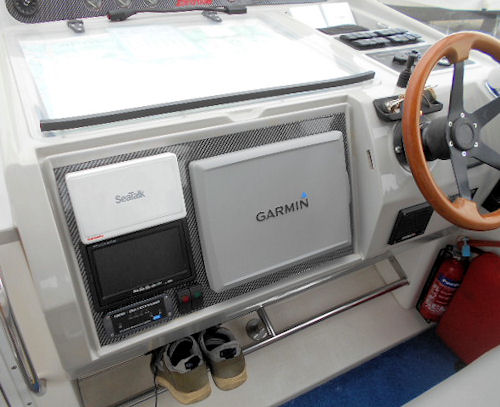 with the cover off you can see the recent large Garmin screen, Autopilot head left, and video screen under which has two cameras at the flont of each engine
Great to keep a little eye on belts. etc, note new carbon dash panel in here also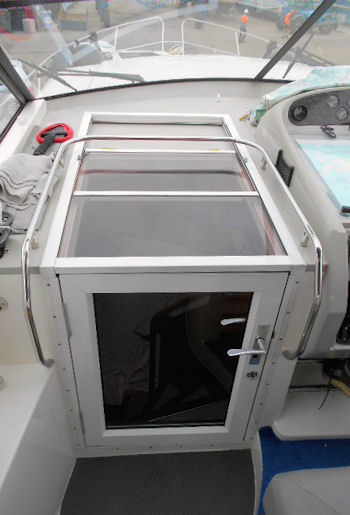 Cabin entry door with slide back top, nice grab rail surround,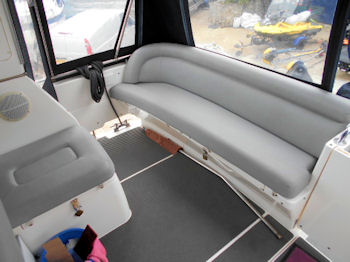 all the cockpit Upholstery is recent smart and fresh, aft seat with lockers under, , The big aft deck canopy makes this a very popular space whilst aboard, if the winter the big canopy can be removed and the "Bulkhead cover which drops down straight from the GRP arch to the aft deck floor, can be fitted, and there are individual covers for the aft deck seats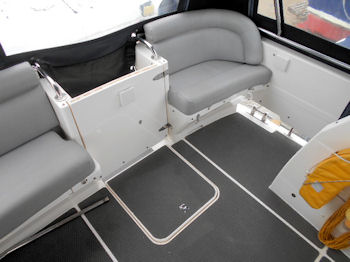 transom gate, with aft cabin escape hatch on deck.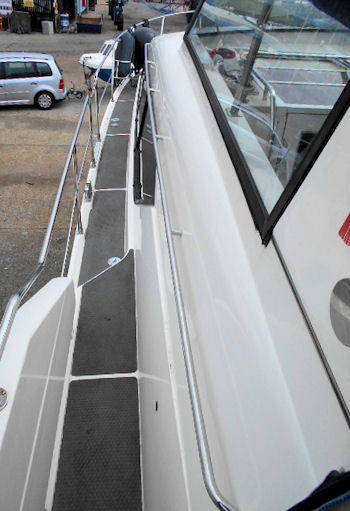 easy side decks, with excellent rails and grabs,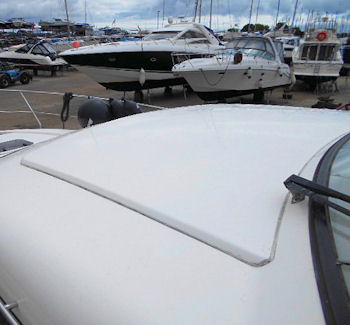 usual Broom full engine hatch in saloon roof.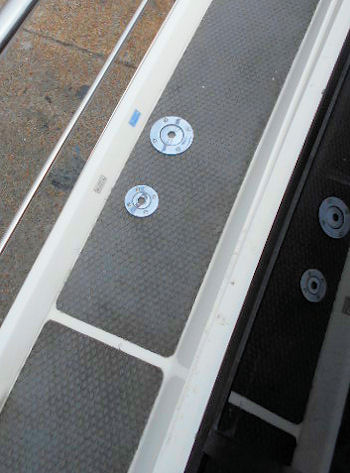 Pump to deck Waste tank with rinse point( as well as discharge to sea ability)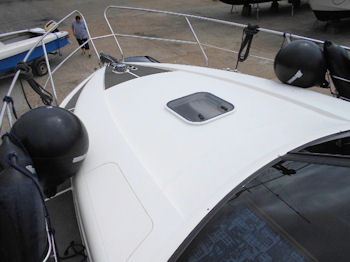 fore deck, decent set of Fenders!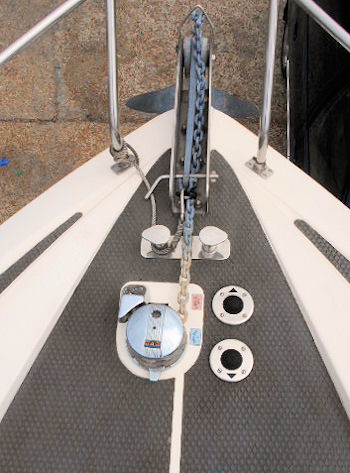 Bruce anchor, and chain snubbing bollard to take weight off windlass at anchor.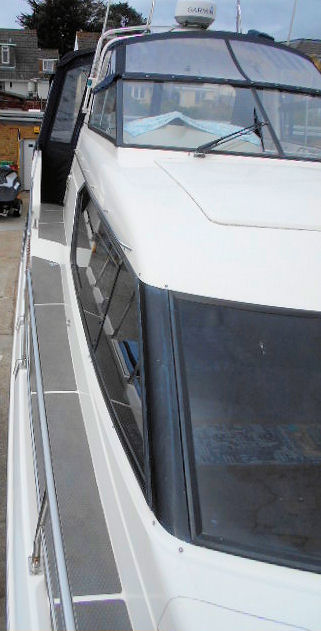 starboard side deck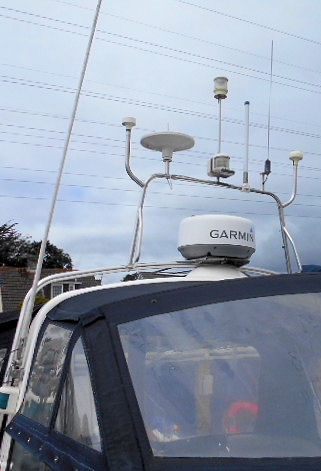 aloft, two GPS antennas, Garmin Radar, Navtex antenna, VHF etc.. all mounted on the Stainless Hoop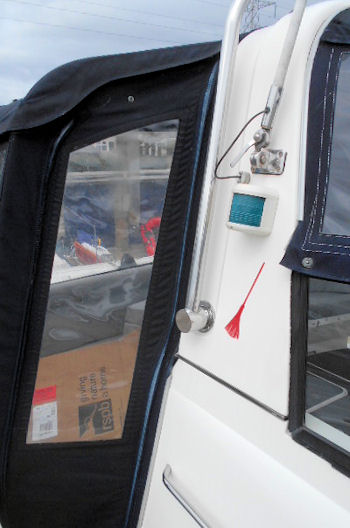 The Stainless Hoop can be dropped aft without the GRP arch.. or that grp arch can be dropped to acheive minimum airdraft.. two stages.
Inside from forward, Twin singles forward, achor locker access behind hinged mirror, hanging locker to port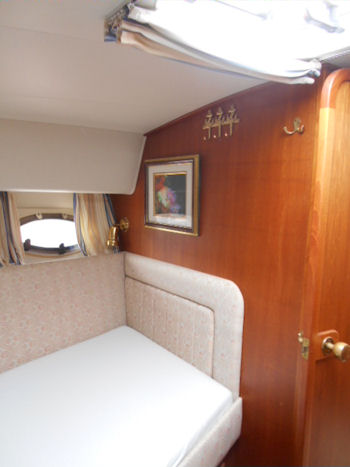 TEAK interior ( upgrade at the time) bed head starboard side, opening port each side and hatch over,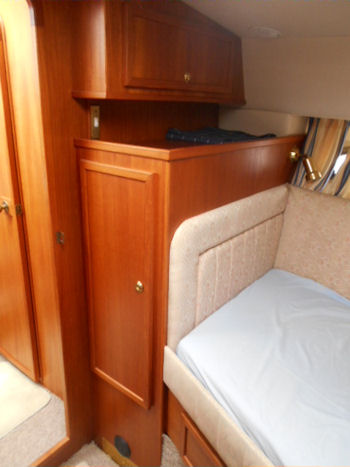 port, extra locker above, note heater outlet at floor,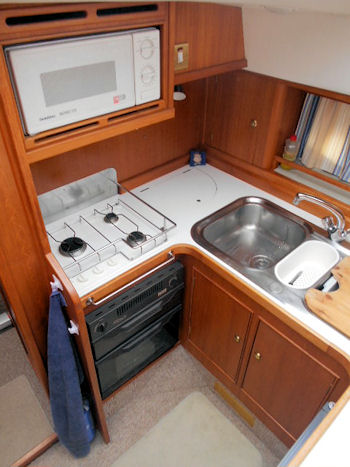 Galley set to starboard, Gas oven and grill, three burner hob, Twin sinks and fridge right of shot, Microwave bult in overhead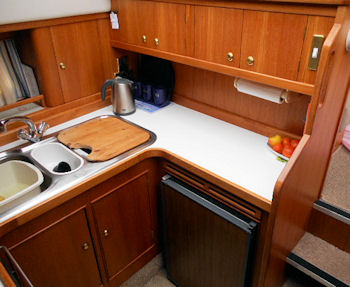 neat lockers, new LED lighting, Nice and light here just under screen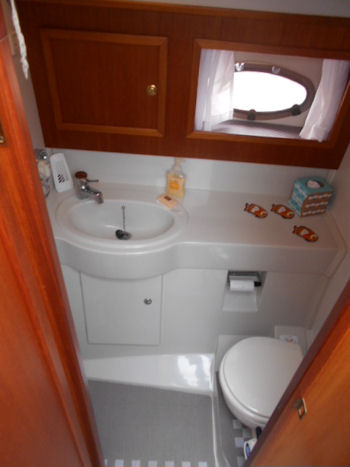 heads forward set to port, easy moulded liner, shower left of shot, Manual seatoilet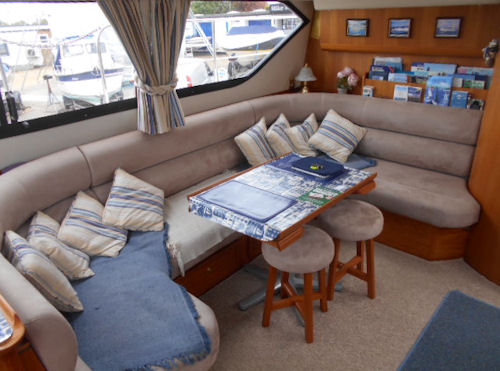 saloon , looking aft, starboard side, recent Alcantara 4-5 years old, still looks fresh, extending table, with covers to protect,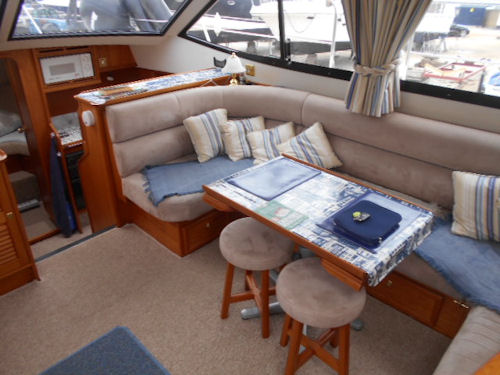 looking forward, lockers under seating, recent curtains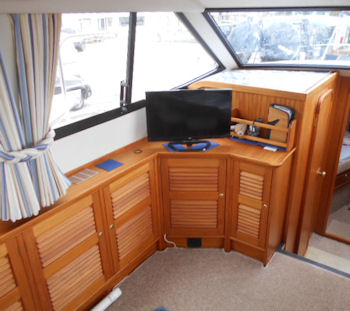 port side , louvered style cabinets, rather smart. big opening windows each side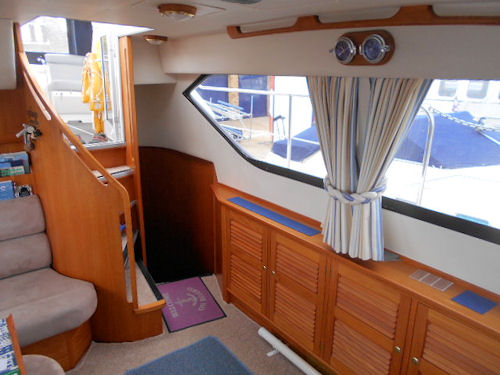 looking aft, good grab overhead, curved stairs surround laminated with grabs cut in, nice boat building...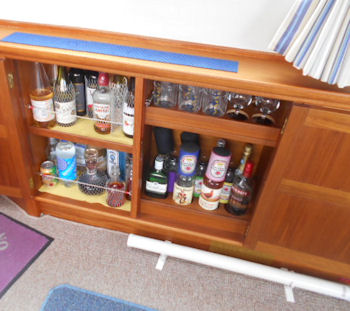 lots of well organised stoarage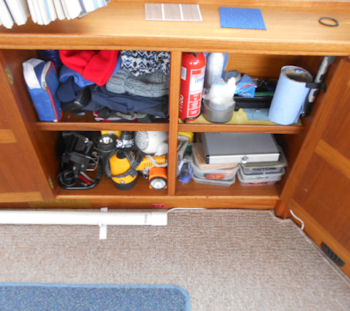 owners always leave a couple of tube heaters just to stop any chance of damp..
Ships papers are nicely in order, and right is the Stereo locker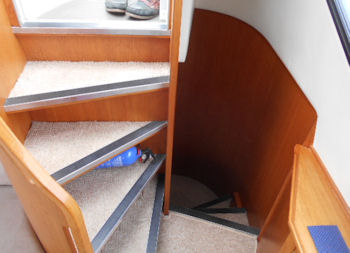 looking aft down aft cabin entry steps,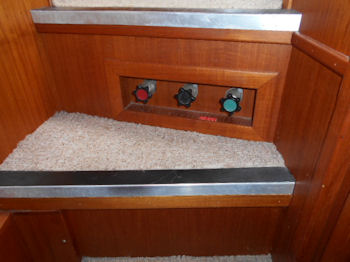 Fuel taps on the way up the aft cabin steps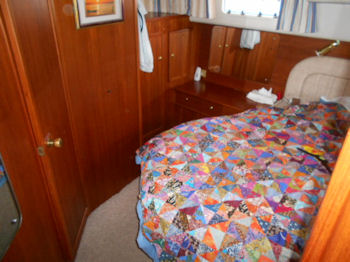 aft bed set with head in port aft corner. door left is to the en-suite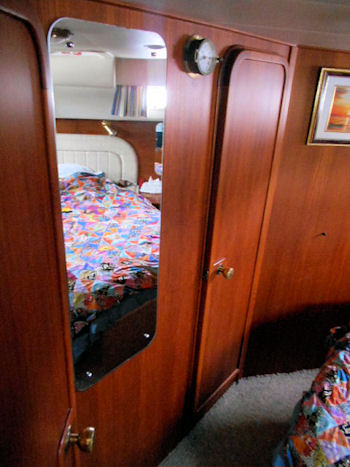 mirror on front bulkhead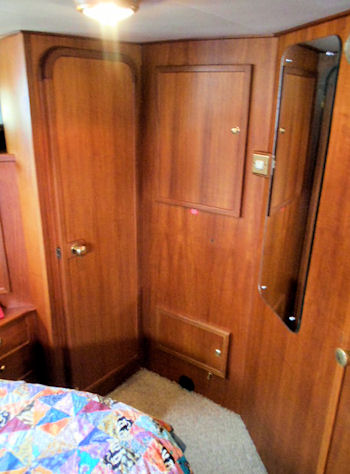 looking forward from aft starboard corner, with cabin door shut ,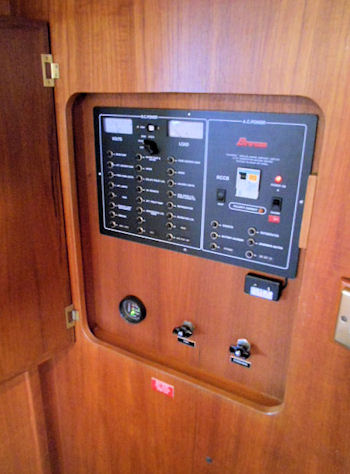 domestic switching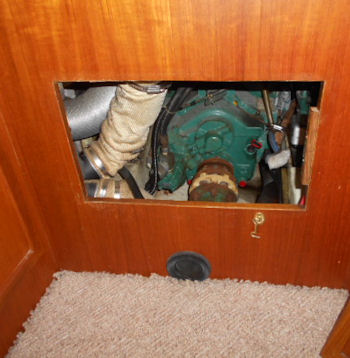 and below a drop out access panel to back of port engine, heating outlet at floor
nicc lockers all round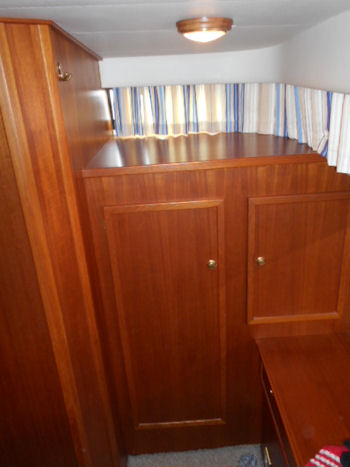 hanging locker aft starboard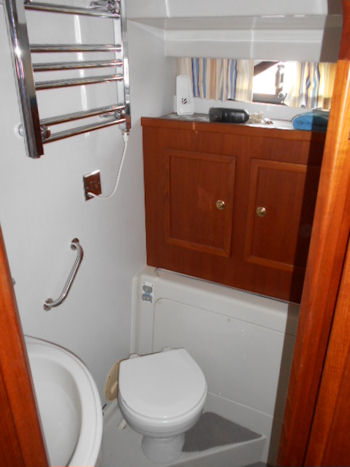 Electric heads with headed towel rail,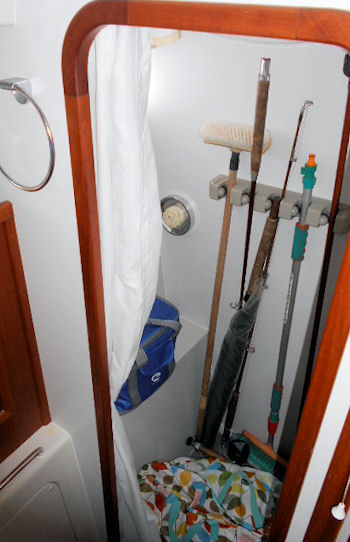 and shower cubicle aft, owner has fitted a rack for strage in here as they use marina facilities mostly, and the have a shower forward as well.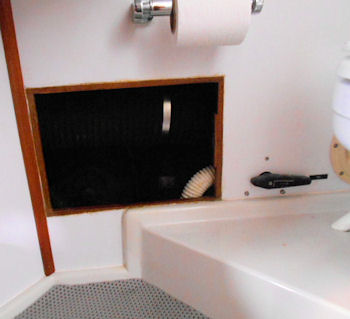 starboard engine access aft drop out panel, and note Waste diverter valve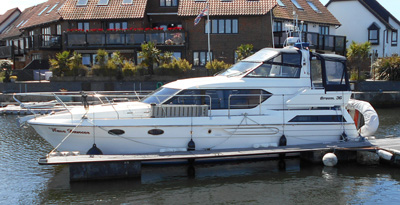 very neat tidy boat
afloat at her Berth when in Hythe