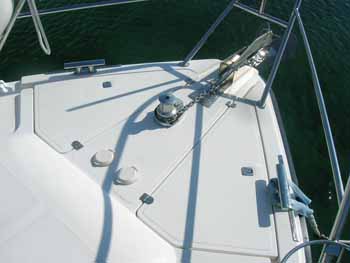 Foredeck, plough type ( Delta) anchor with 30 M chain to SL electric windlass, deck and remote switches,
with twin deck hatches to deep lockers,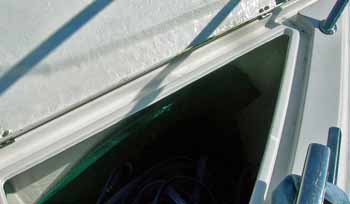 stb, side, used for warp stowage as well as plumbed in deck / wash, hose, etc..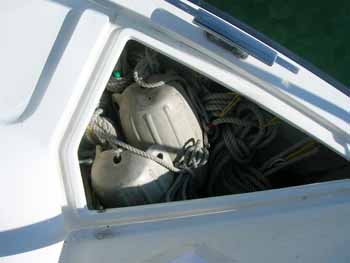 port side, big locker you can see they will swallow two fenders and more warps,
Really good fender baskets take four each side,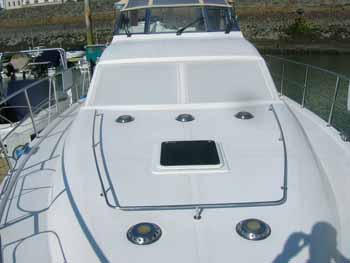 plenty of static ventilators, and note the low safety rails around foredeck area, and Mesh/net, sun screen blinds on lower saloon screen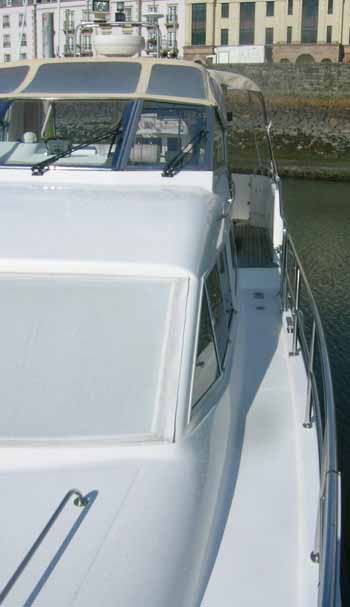 port side deck looking aft, Note reflection on Coachroof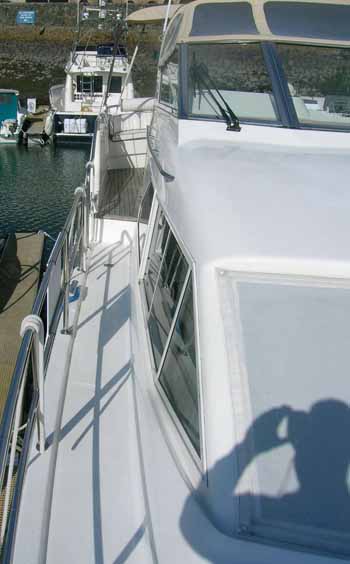 and starboard side,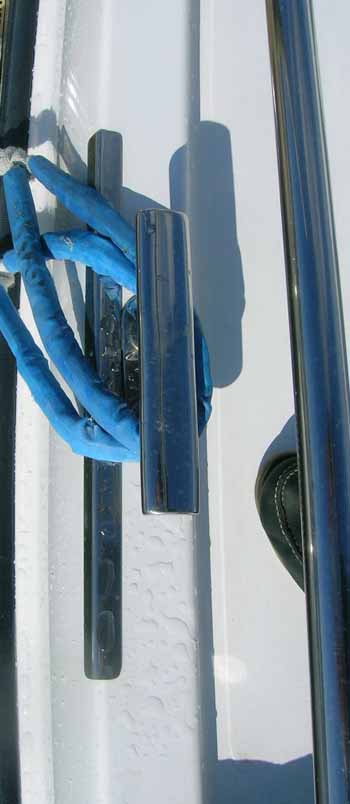 Nice to see wear plates at every cleat.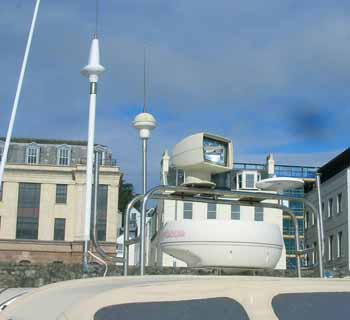 aloft, Nav tex antenna, GPS antenna, remote spot, and omnimax TV antenna, over Radar dome.
This GRP arch folds aft to take air draught down to 3.4 M to allow French bridge heights inland
side gates built in to each side rails, clever system as it drops down as side access ladder each side. Stainless steel work on the Atlantics was always good and heavy. note fuel filler
ladder dropped, Neat.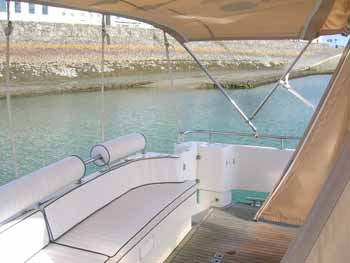 aft deck seating, and aft deck bimini,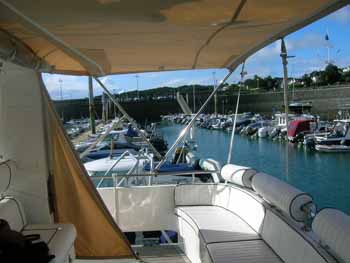 looking to starboard,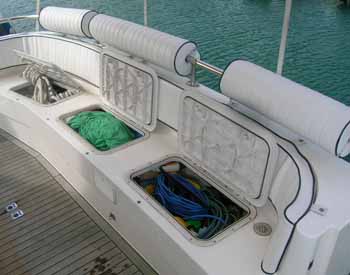 lockers under aft seat. note the ring eyes in deck left of shot to attach aft cover "Bulkhead"
aft gate, port side, Teak is all "Flat" and is of good quality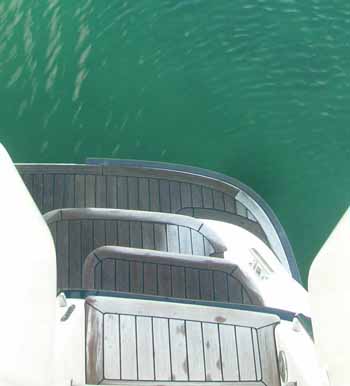 easy steps to aft platform,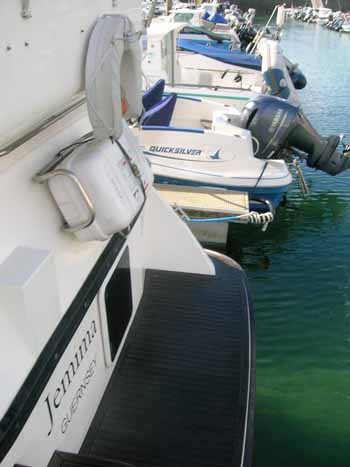 aft looking to starboard, Recent Liferaft in cradle, aft excape hatch adds light.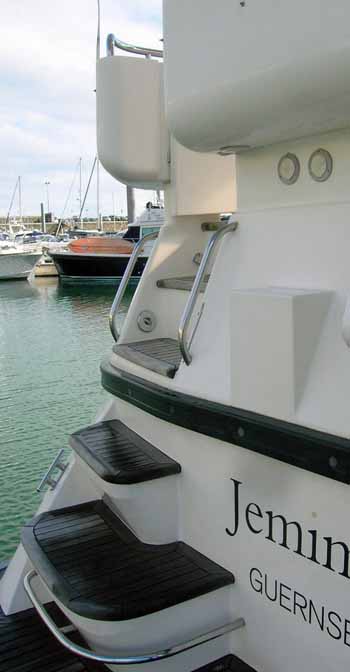 aft to port, Note Water filler at step, and shower right of gate, step lights, and extra cleats to aft quarters, note also the GRP moulded bases ready should you wish to fit extending arm type davits.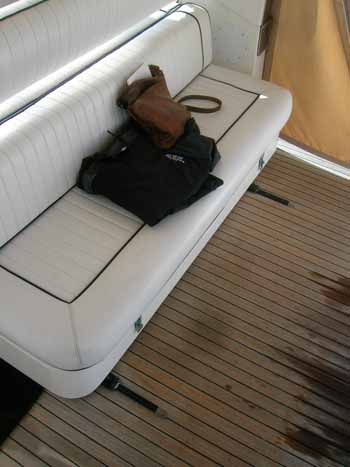 aft facing seat/locker unit, clever design feauture , this whole seat unit is mounted on tracks that allow you to adjust legroom at helm, and slide fully forward in Harbour to create a huge aft deck area, There is stowage within it as well.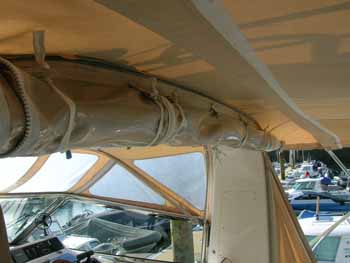 aft "Bulkhead" cover covers the aft facing seat,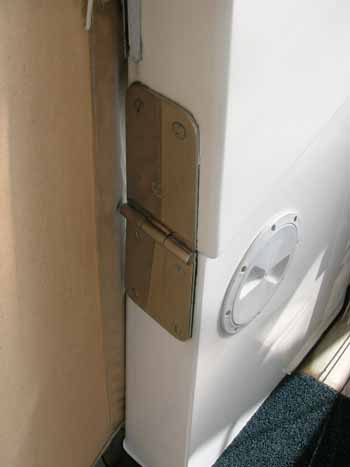 big solid "Never fail" hinges to GRP arch and access hatches to get to electrics.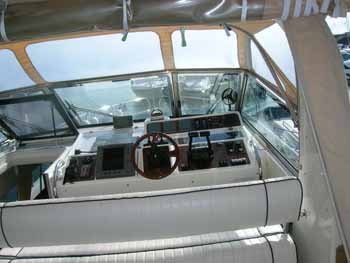 helm station set to starboard, seat back "flops " forward or aft,
smart dash cover, and smart Stainless screen frames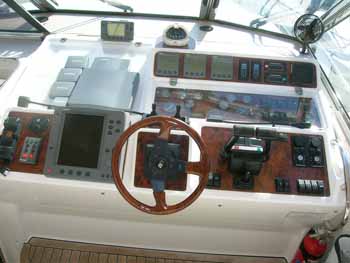 well equipped dash with easy read angles, "Hydraflex, Hydraulic steering with additional "JOY Stick" control as well as wheel, wich has a self centre button, very handy before berthing, shown in photo just aft of Throttle unit. Note the STERN and BOW thruster joy sticks just ahead of the wheel.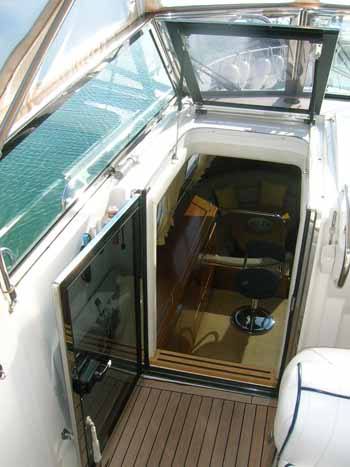 cabin entry , also solid Stainless work, set to port,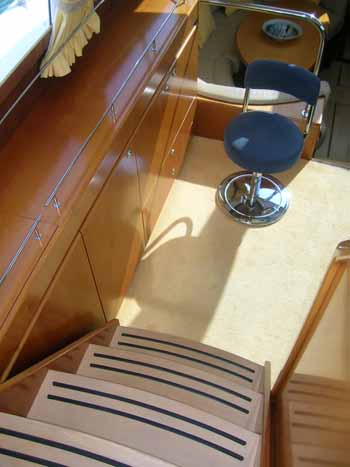 looking in from Aft deck, anti slip treads to steps, Loose seat, and neat Fiddle rails again nice stainless work,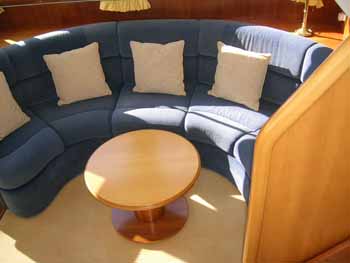 sette area to starboard, loose coffee table, and carpets in good order, with heavy Rubber backing ( noise reducing)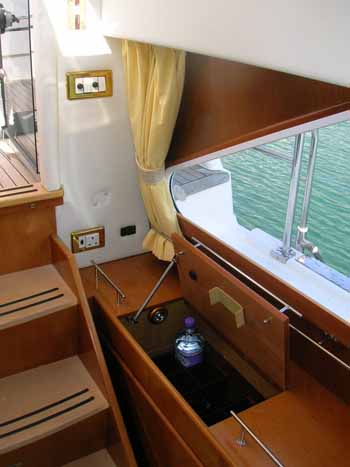 aft to port, drinks locker, note lights switches all have dimmers.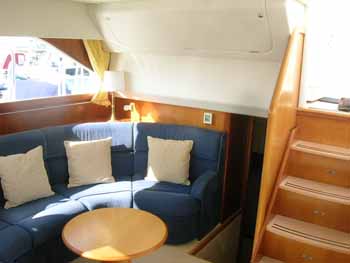 aft cabin access steps,and under dash access overhead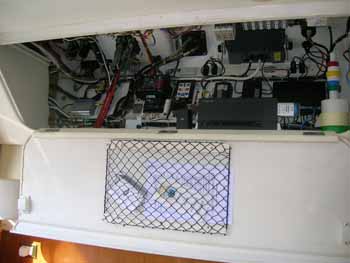 easy open to get ant anything required. ( wifi Router / Booster is in here)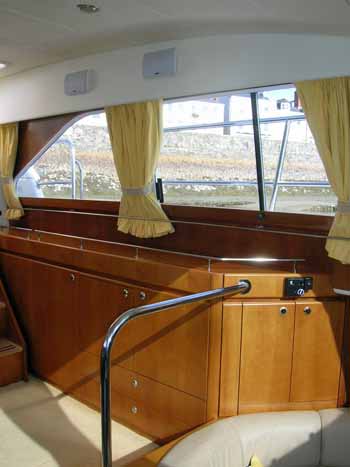 port side, note BOSE speakers built in, and again neat stainless work to curtain retainers,
Large opening windows each side, I did not notice any window leak staining to woodwork linings.
note heater controls, right,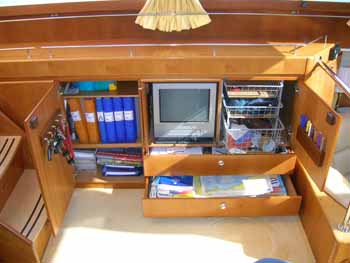 NEAT documentation left of shot, Old Tv and slide out trays, with charts etc in drawers under, The doors round TV slide in out of the way on tracks.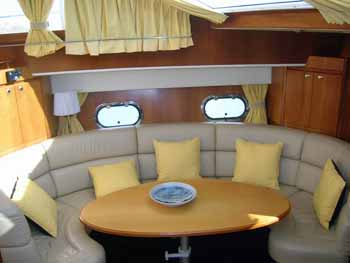 Lower dinette port side, Leather upholstery, still looks well. table drops to infill, two opening ports here is nice feature,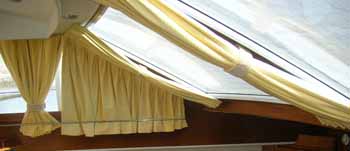 Lower screen s and the outer mesh covers are in place.. they can be seen through but not really seen into, and they reduce sun fade , even without closing the inner curtains.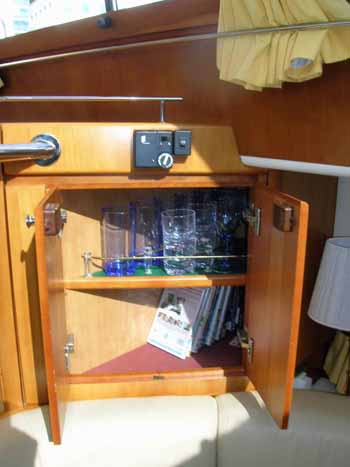 aft locker over dinette,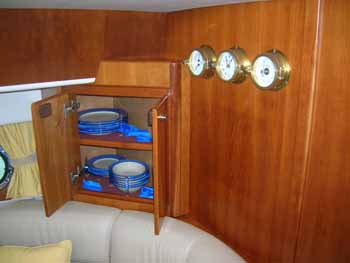 Forward locker houses Crockery.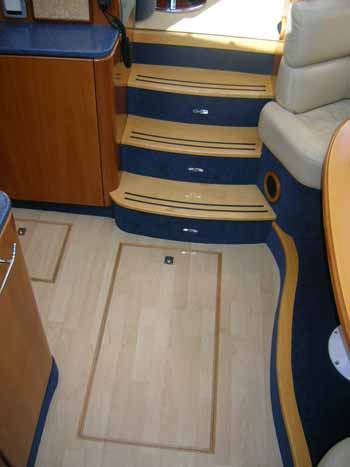 Hard timber floors, with edged lift access hatches, step lights to steps, nice nosing under dinette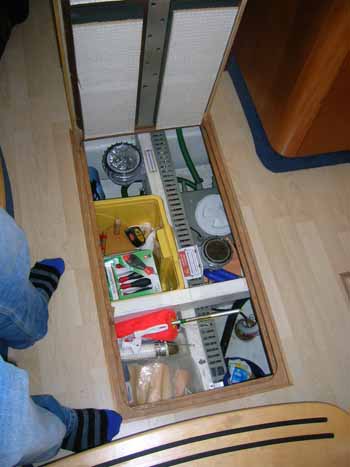 handy stowage as well as good servcies access, Generator raw water strainer, and various seacocks etc.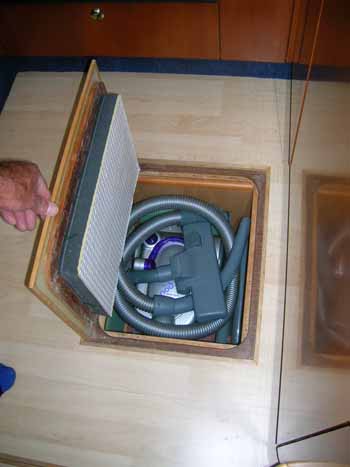 under galley, note sound proofing nice touch, and Vacum cleaner fits well, and is included,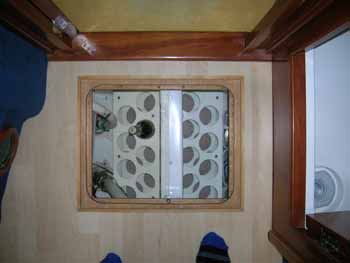 Wine rack central looking forward to fore cabin,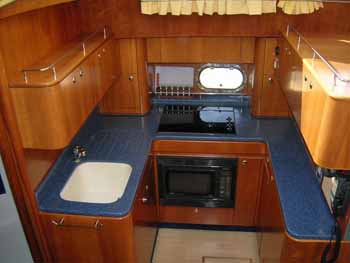 Galley set to starboard, Nice Corian worktops, Ceramic Hob (4 Burner) and combi microwave, ( NO GAS ABOARD) Note again the neat S/S fiddles, Extractor unit over Hob.
Day/forward heads / shower set to starboard ahead of Galley, Electric fresh water flush Toilets, with "To Sea Or To tank" valve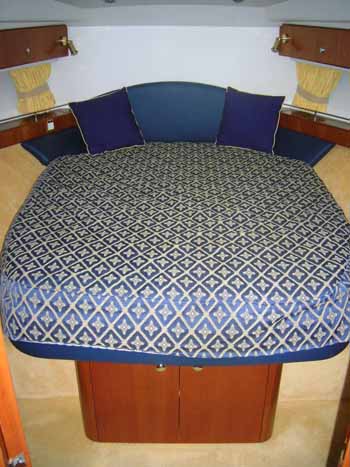 Fore cabin, Lockers under, Hatch over with screens built in,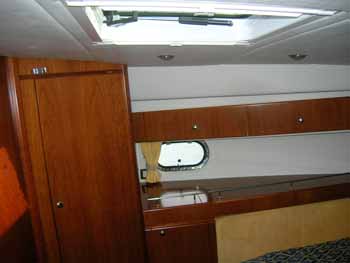 High level under deck lockers, as well as Hanging locker, and vantiy unit in side unit, Two opening ports,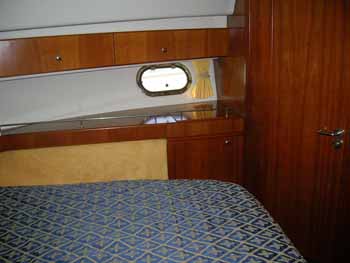 Unmarked woodwork, ensuite door to heads,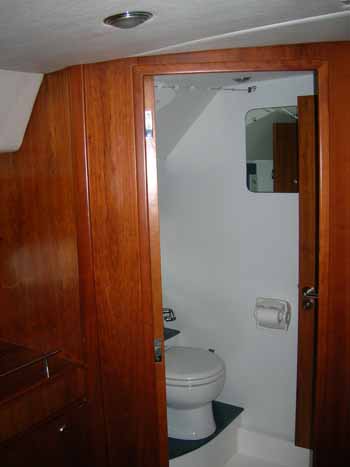 said door open, Ok so back to aft in saloon now..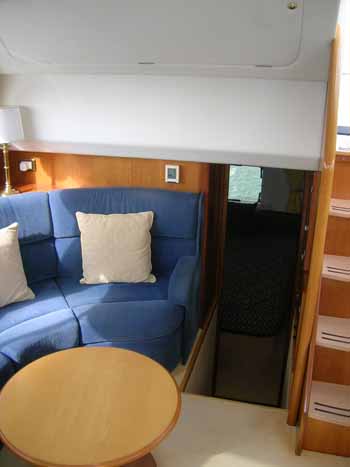 access steps to aft cabin,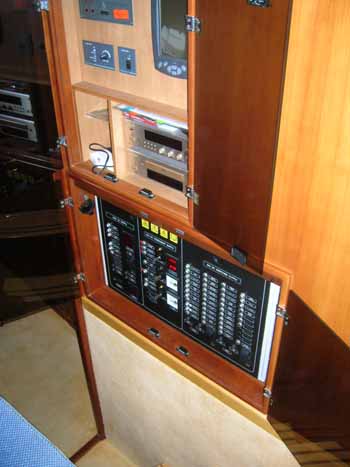 to right as you descend. all the domestic switching, both 24v ( nice) and the 240v shore system, Built in stereo, and above the Mastervolt 72 amp Charger controls and Inverter controls, ICS Navtex just visible. Top left is the Fisher Panda 6 KVA generator start panel.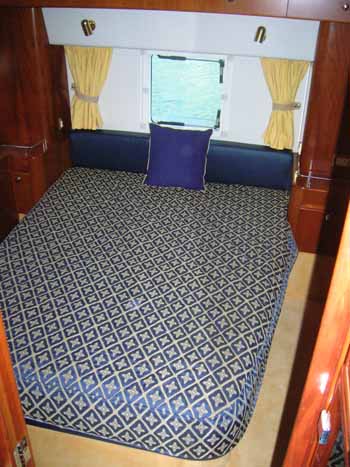 aft berth, water tank under, opening hacth with built in screens,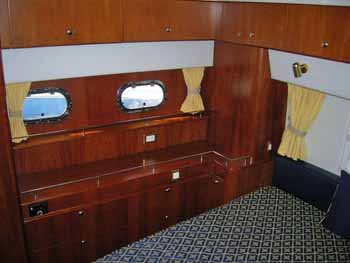 aft starboard corner, beautiful woodwork all round, and high level, lockers, Note second central heater controls left,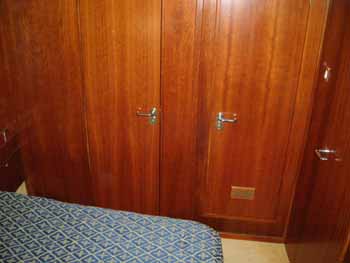 port side, heads and shower, and cabin entry door right,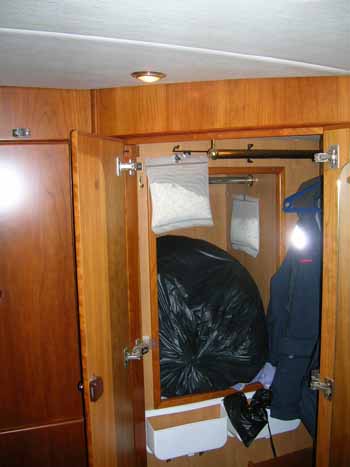 starboard side BIG hanging locker with two rails,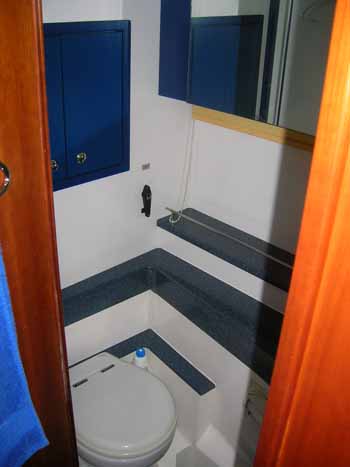 heads aft to port, note "Tank" selector lever, Nice corian detail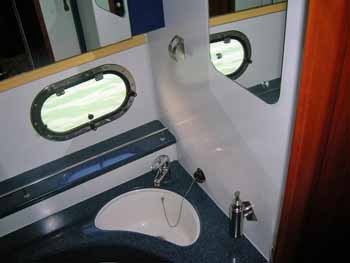 basin forward, Mirrored side lockers,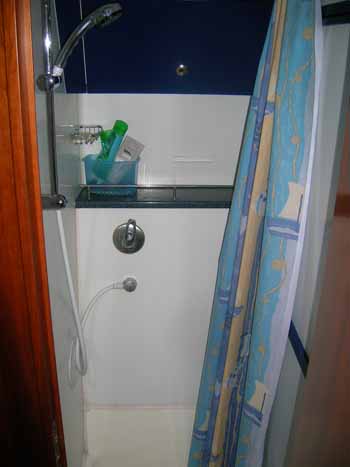 shower cubicle ahead to port, with...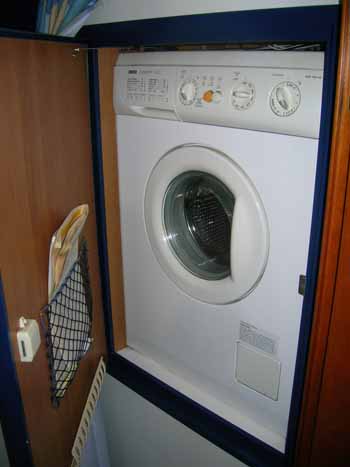 Washer / drier, concealed forward
aft steps to and from saloon, lift to give handy access to back end of engine space, Red Raw water seacocks, and strainers easy to access ,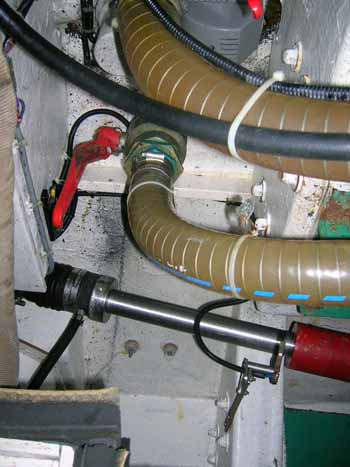 as well as shaft exits, ( PSS dripless shaft seals,) "Brushes" unit to shaft for electrical bonding
just aft of red coupling unit,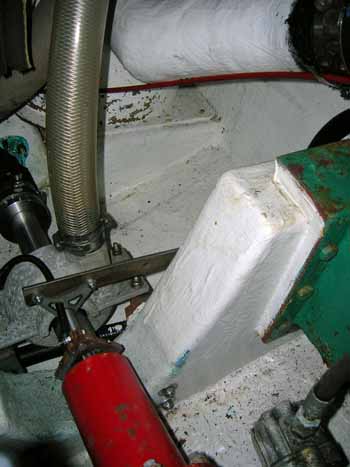 SHAFT DRIVEN EMERCENCY BILGE PUMP SYSTEM .. Great Bit Of kit... I can just see that this simple high Out put unit, could keep up with quite a leak,
Fuel Filter Pressure Guages, coupled with Over sized racor Primary Fuel filters, add to that Volvo Fuel decontamination units, The owner was serious about keeeping fuel good.
Note exhaust alarm sensor in foreground with black pipe waier cover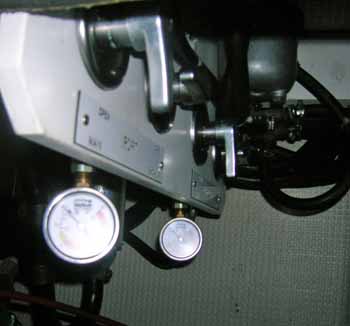 fuel tap system above fuel pressure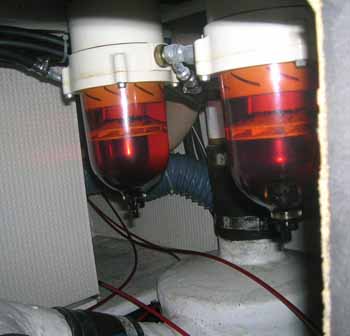 clear fule strainers,, easy to access, big water exhaust traps each side. ( visible behind)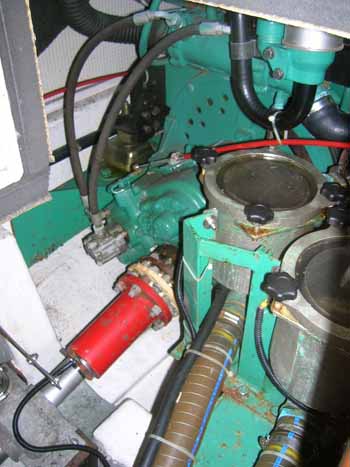 aft end of port engine, note you can remove Raw water strainers by hand..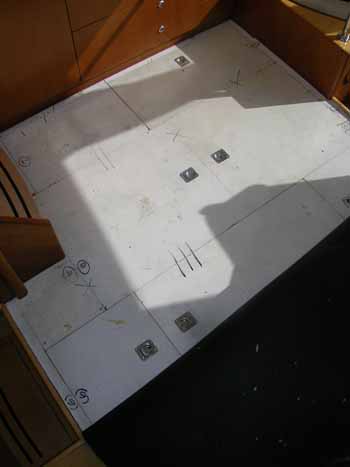 saloon floor over engines, is fully "liftable" and each hatch is numbered , note the heavy carpet rolled back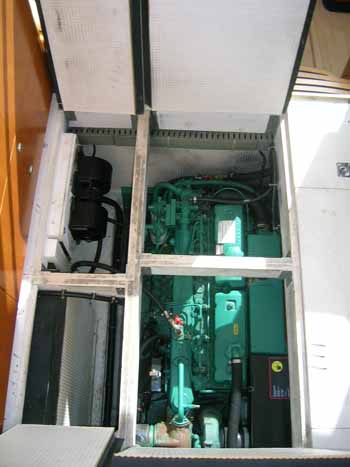 port engine looking forward, all quite neat and clean in here for a 2001 boat,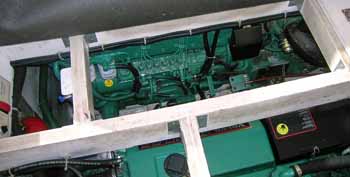 looking across to stb engine,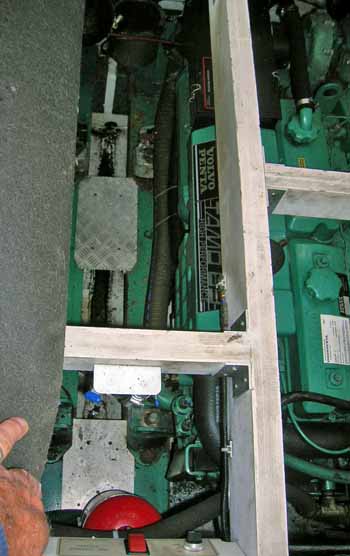 Sea Fire extinguisher system,
Looking aft, I did not remove carpet to fully access starboard engine but it looked as good as the port, Note the step tread, between the engines, Atlantic fitted the engines slightly closer together than Broom might have done, for two reasons. 1, MORE FORWARD THRUST.. slightly better push when they are close together( better fuel efficiency) coupled with the props being slighly deeper down the Vee of the hull so better "View " of water, but that does increase draught a touch..), and 2, if using just one at a time pottering down rivers, or Canals, then they require less rudder angle ( resistance) to run the boat straight.
so down sides.. well there is slightly less space between the engines for working servicing access ( upside is there is better room outside the engines for access) and other slight down side, there is slightly less turning moment when spinning the boat with one ahead and one astern, ( still a very easy boat to manoeuver though)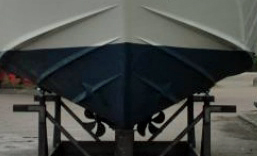 head on view shows this on another Atlantic 42 boat ( but ignore the Five blade propellers in this shot, )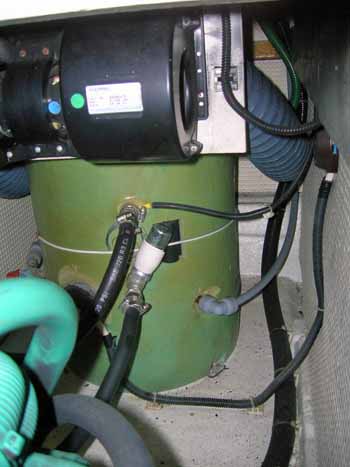 forward of port engine, Hotwater tank, with good size engineroom fan unit above,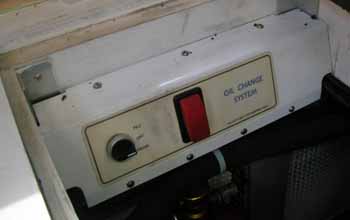 Forward end of engineroom, "Oil Change System", Electric pump system to aid changes of oil (very nice )

side view of similar hull showing shallow skeg keel, This adds directional stability at slow speeds, and also helps reduce slamming at speed at sea. But it is not deep enough to offer any prtection from the ground to the stern gear. ( just like a standard planing hull)
Brochure Running shot of similar boat, , (no Bow platform though)