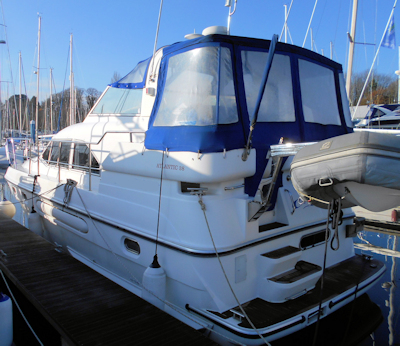 Not the most flattering angle, but here you can see the moulded steps access to the aft deck from the platform, you can also see that even with the Zodiac rib in the extended arm davits , There is room to get on and off reasonably.
The full cockpit enclosure aft of the radar hoop, is an extra although most have it, the one in the photo is now demoted
to being the "Winter Cover" there is a smart brand new one ready to fit at the season start.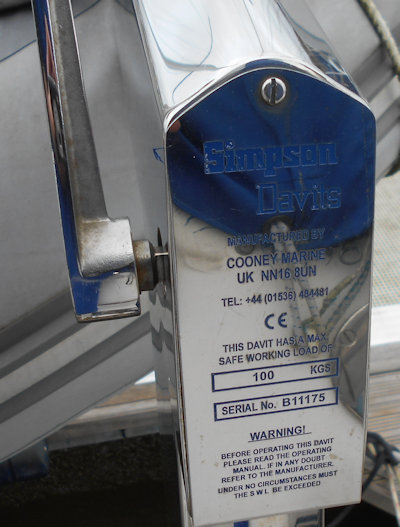 Manual davits 100KG each arm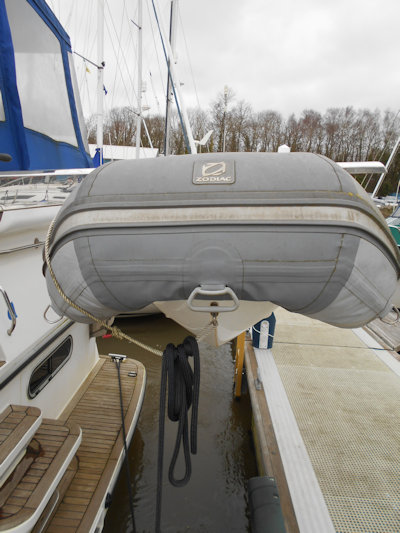 The zodiac rib, and you can see the opening window in the transom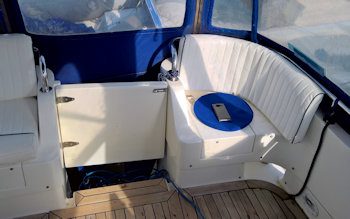 and from the upper aft deck, lockers under all the moulded seating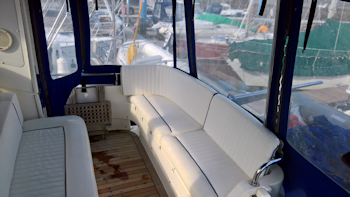 all recent upholstery out here very smart, Note teak deck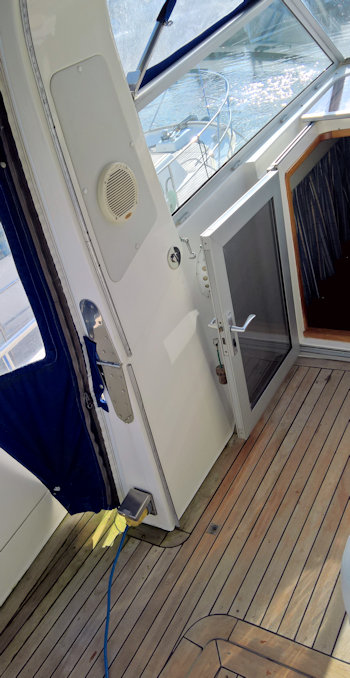 port side, detail, cabin door , shore power plug, stereo speakers in arch ..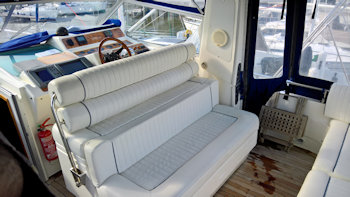 the big seat moulding is set on tracks on the deck and can be slid forward whilst in harbour so you have more floor space..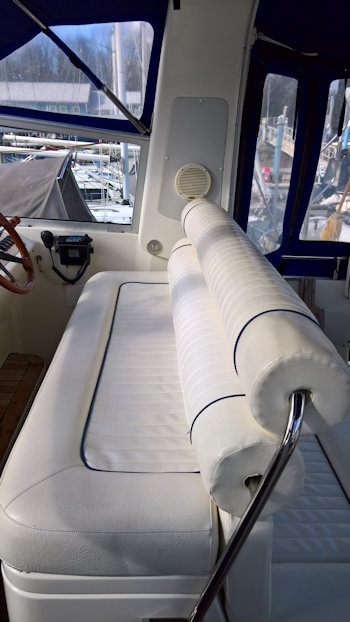 here the back rest roll is "Flopped " aft for use at sea.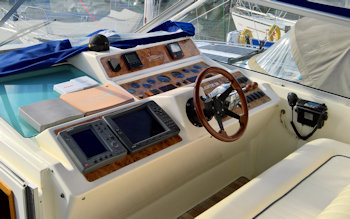 Nice read angles on the screens, room for a folded chart above plotter/ radar screens.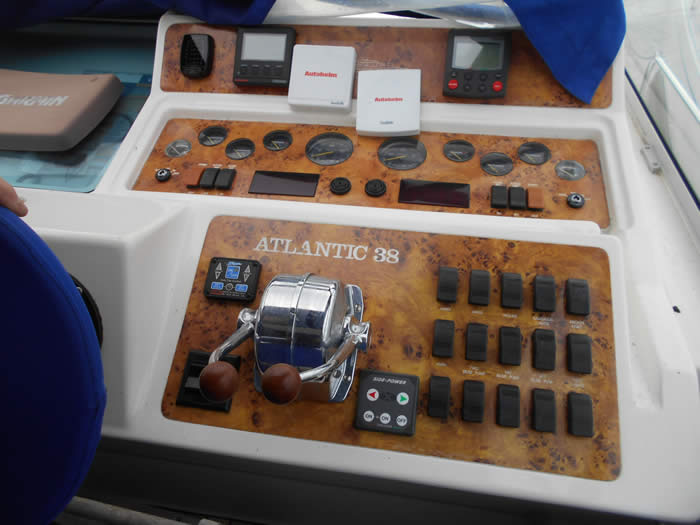 bow thruster controls next to the simple single lever morse controls, at Top the covers lifted off are the Tria data speed and depth, and right the Auto pilot control head
March 2020 535 Hours run from new.. and yes well serviced regardless, I dipped them and they are sat with clean oil in them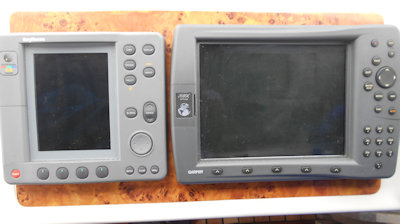 Radar left, Plotter Right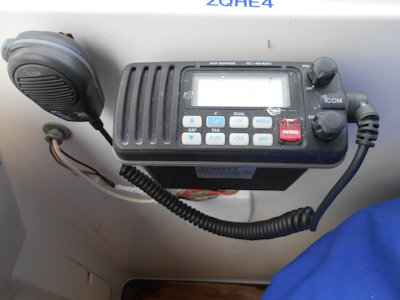 DSC/VHF Icom by the right of the helm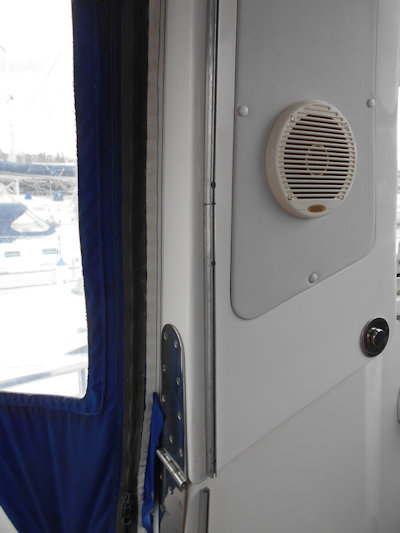 LOTS More shots around aft deck and fore deck areas, and the walk round Videos awaiting weather !
so we will start at forward end inside and work back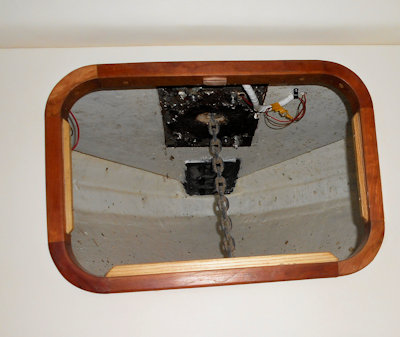 Mirrored door access to underdeck at Windlass and chain locker
nice under deck lockers,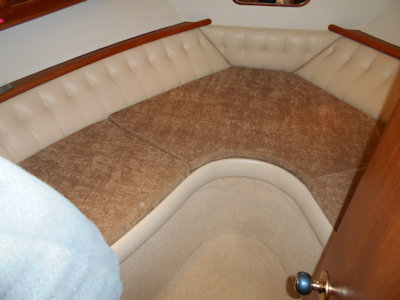 Two good singles here, Cream leather side / back boards. recent upholstery and carpets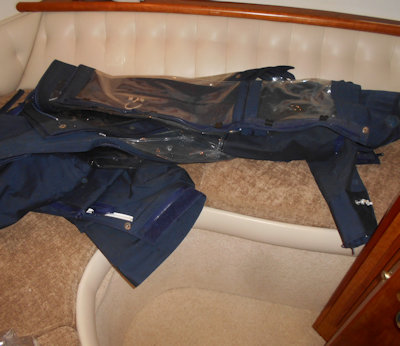 all the new aft canopy is stored in here at the moment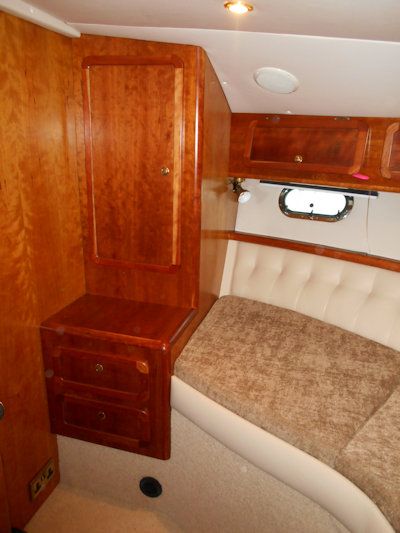 Beautiful Timberwork so typical Of Fred Booker built boats, Port side hanging locker over drawers, heater outlet below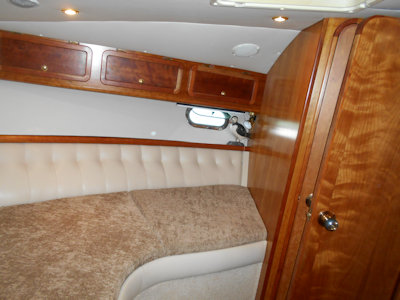 and starboard side. note stereo speakers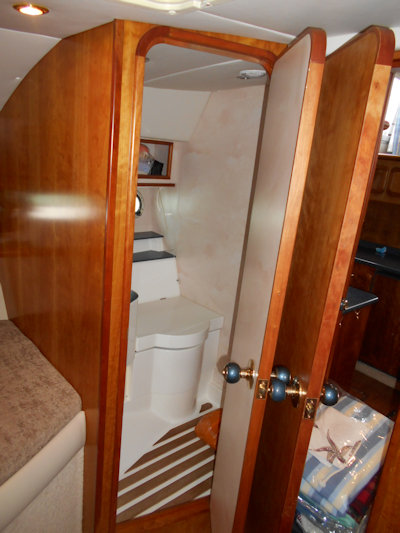 Ensuite door , and cabin door right,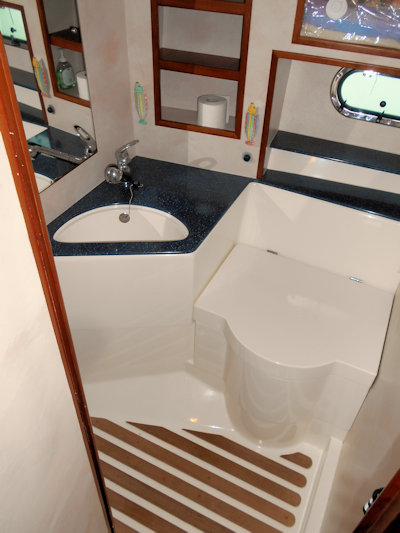 looking in to forward heads/shower from door by Dinette Electric heads
dinette set to port , looking aft, cream leather, all rather smart, again gorgeous woodwork, and under deck lockers,
note Recent Synthetic Teak and Holly Flooring under table
table will drop and make up a decent double , you can also see the recent timber floor through the forward , dinette / Galley area, with floor hatches given a solid Stainless surround..
Note little low level lights..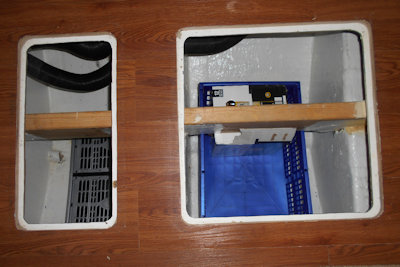 nice clean bilge store areas, here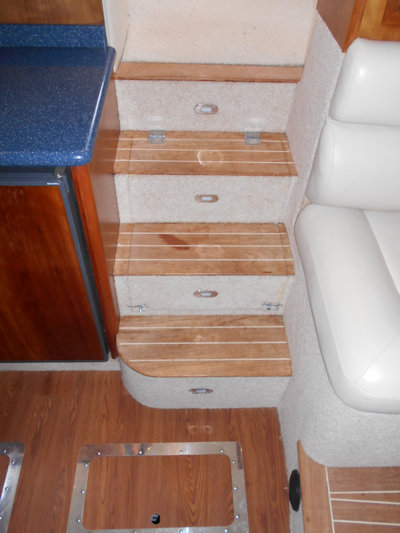 the steps up to the saloon are also re covered in Smart Synthetic Teak, note they are hinged..( neat small lights )
Shower pump out boxes in bilge, and seacock access also Grey Submersible bilge pump here in forward area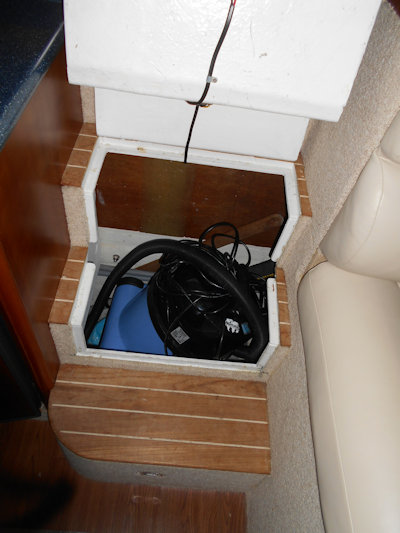 Steps lift to a big store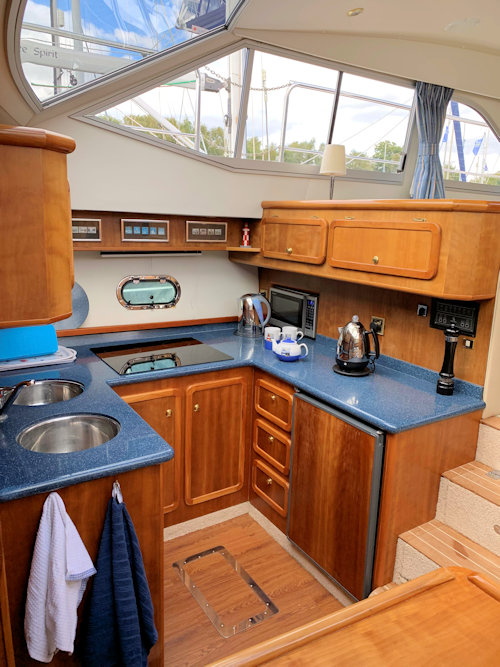 Great Galley set over to starboard, twin sinks through the Corian worktops, Note the generator start panel right behind pepper grinder !
and the microwave set in, flush Ceramic hob, very Nice ( Induction possibly)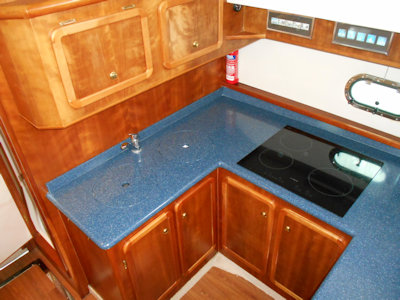 top view with infills in place.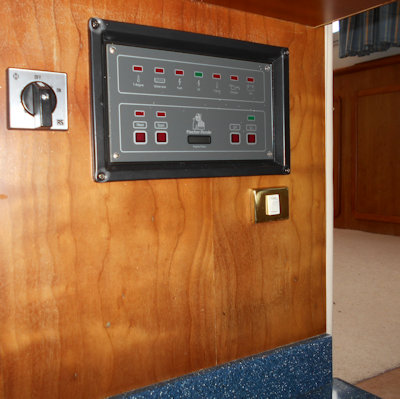 9 KW Fisher panda Generator start panel. ( plenty of power !)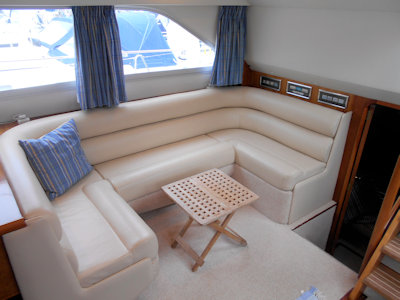 upper saloon, sette area set over to starboard, more beautiful recent cream Leather,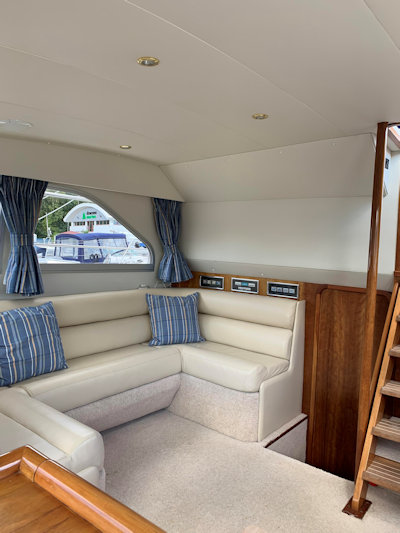 clean linings , steps down from aft deck and then left , down again to aft cabin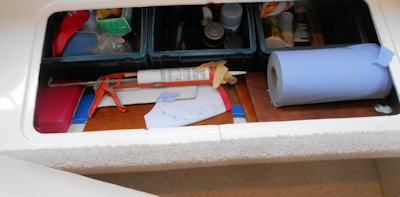 lockers under all the seating..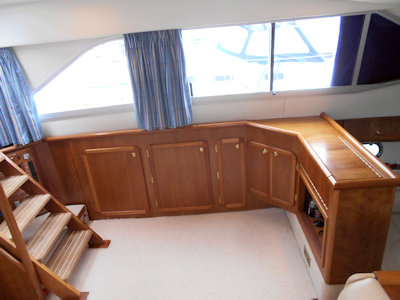 port side in the main saloon, loads of great lockers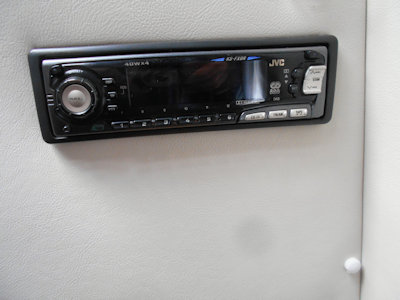 Smart Stereo set in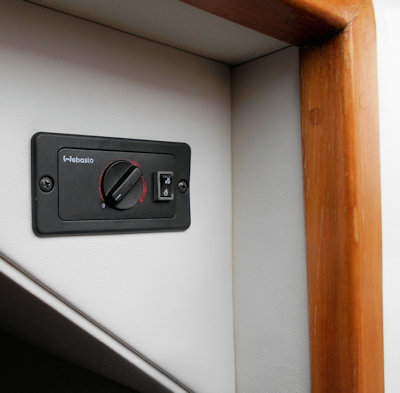 £Webasto Diesel fired central heating control set in just by the cabin entry door.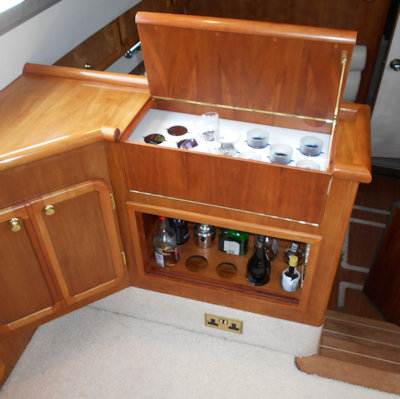 Drinks Locker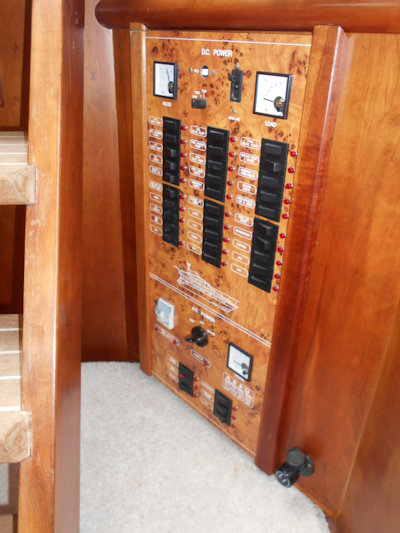 Main domestic control panel aft in the saloon next to the cabin entry steps, all nicely laid out,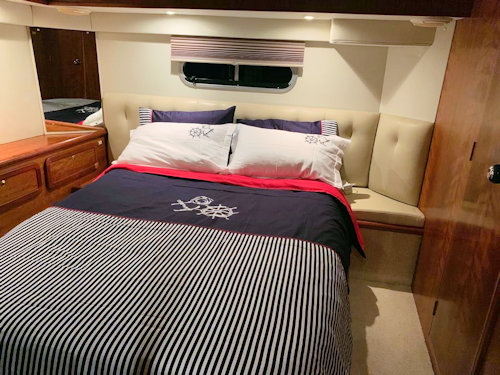 aft cabin,, very nice, island berth,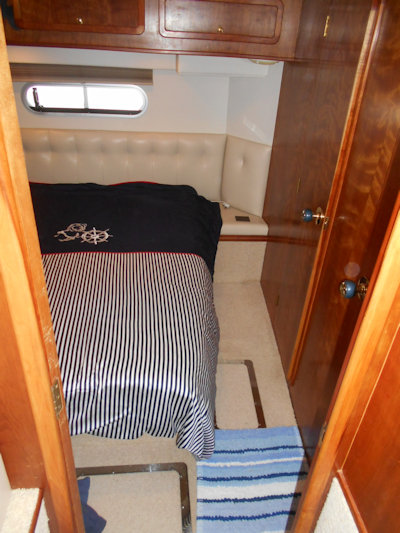 doors right of shot are to the Shower cubicle, first then the aft heads,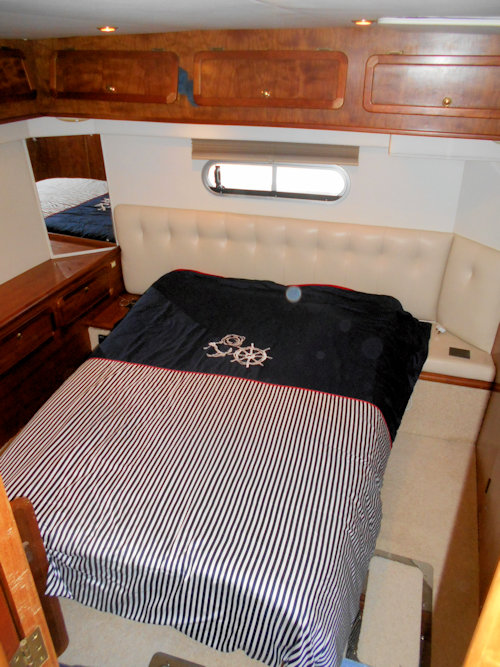 again Wonderful under deck lockers all round,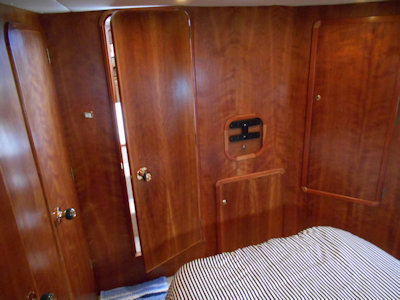 looking forward in aft cabin, and cabin door just ajar, TV bracket right of cabin door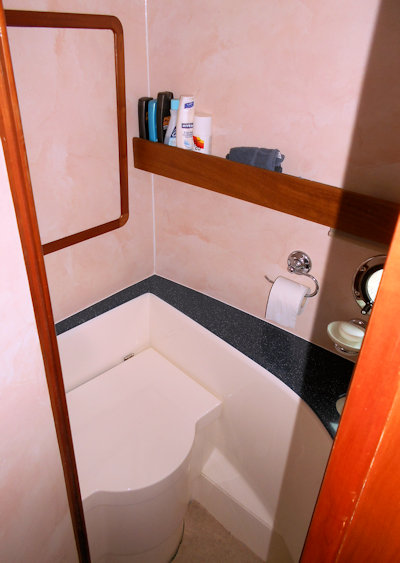 looking into aft heads,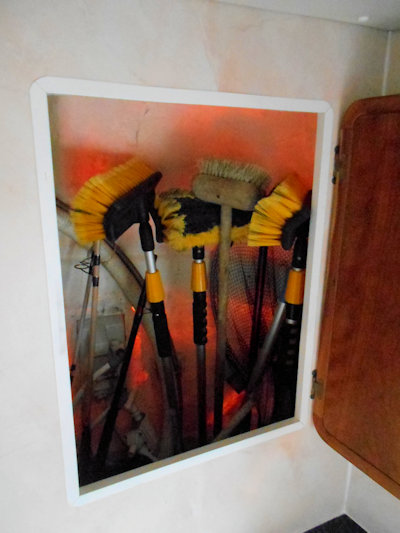 Tall locker behind the Loo,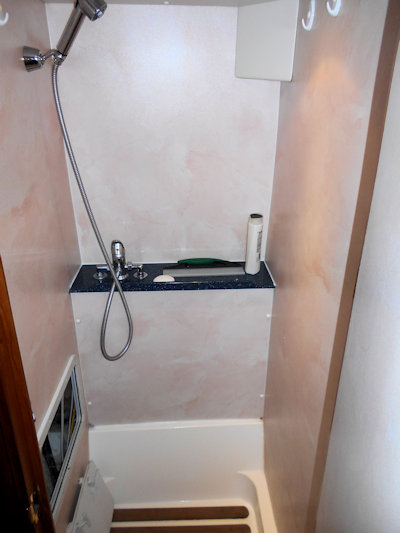 shower cubicle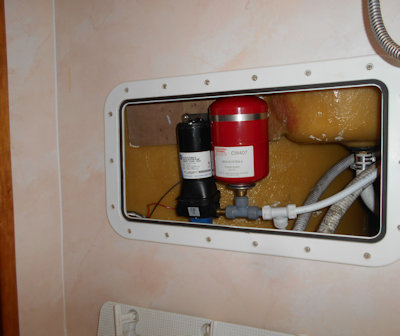 access panel into pump, pressure accumulator etc.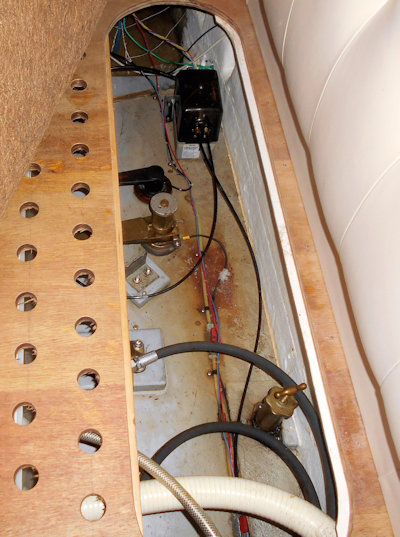 rudder access under head of bed, remote greasers, trim tab pump etc..
Nice to see, Brown "Air Matting " left under mattress, and the air holes through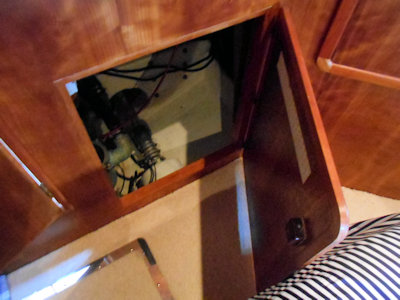 very very nice ability to open a decent sized door in to tha back of the engineroom, see what is going on and also access the Shaft exit glands, water strainers , primary fuel filters etc etc
so nice not to have to be IN the engineroom to get at these bits..
saloon floor loose carpets removed, you can see it is split up into many hatches all ove which lift,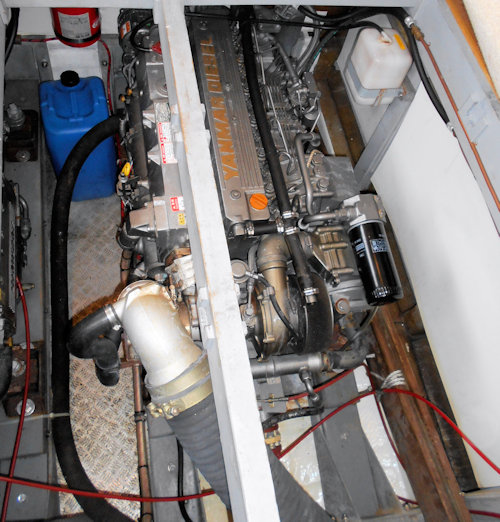 and even the cross members as well as the longditudinals so you can gain really very nice access to these Yanmars.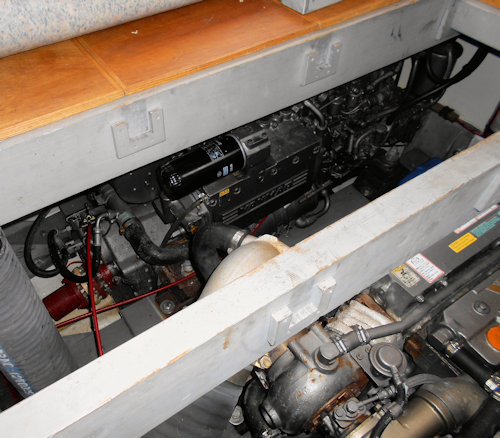 looking across from starboard to port engine,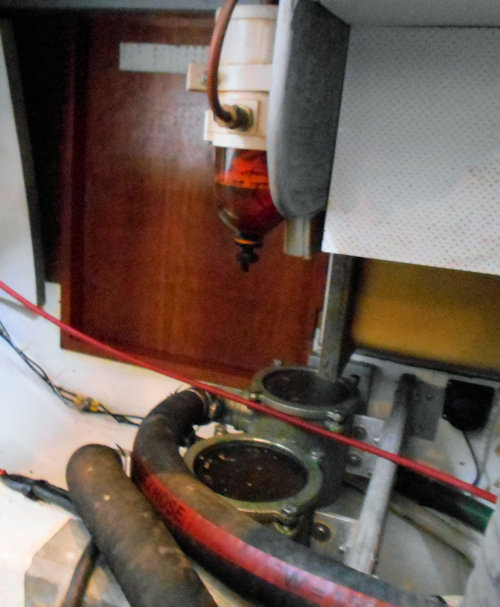 Looking aft at the aft access door in to aft cabin