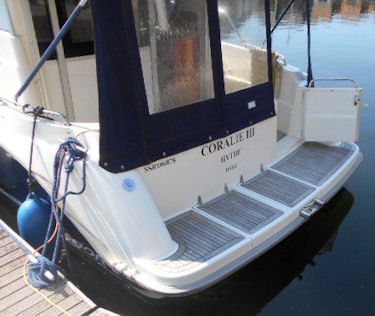 aft end, easy step from either side to pontoon, and good sized transom gate to starboard side, pull out from water, swim ladder midships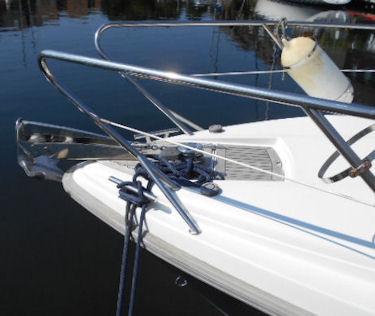 Bruce anchor S/S in roller straight to electric windlass, ( deck and helm controls) walk through pulpit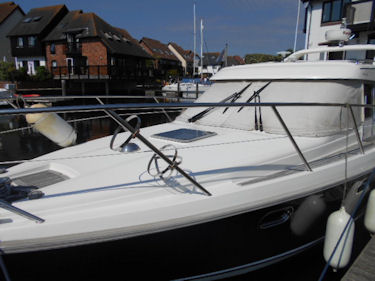 screen covers have always been used and sun fade has not been allowed in ! fender cage each side (extra)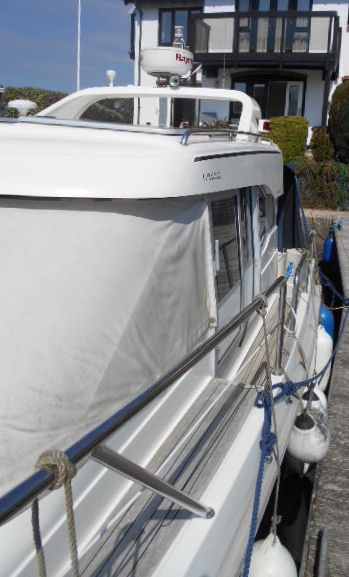 reasonable side decks, rails to coachroof top, teak each side also looks smart.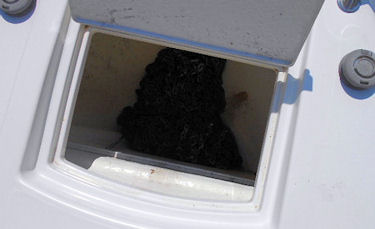 easy access to anchor chain locker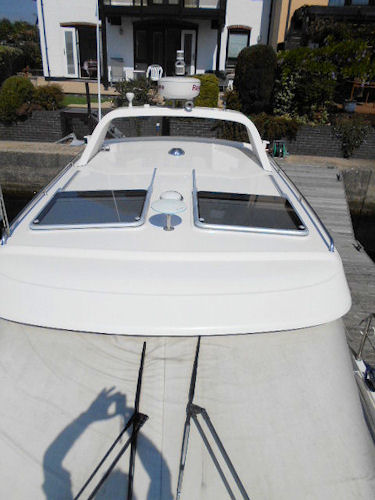 twin big sldie back hatches TV antenna at front, Ertech Toughend glass screen means narrow pillars and little distortion to the view out.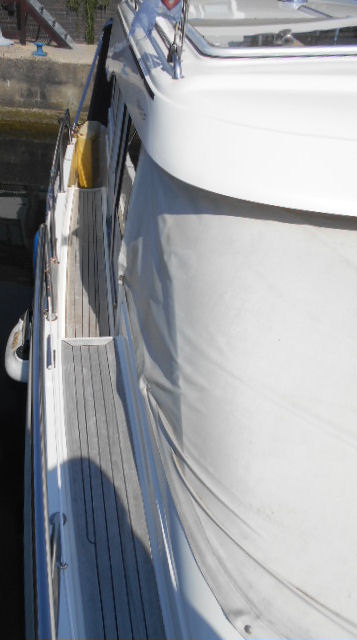 starboard side deck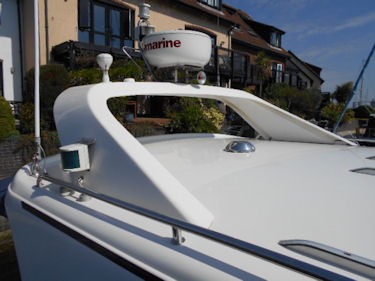 grp arch, note static vent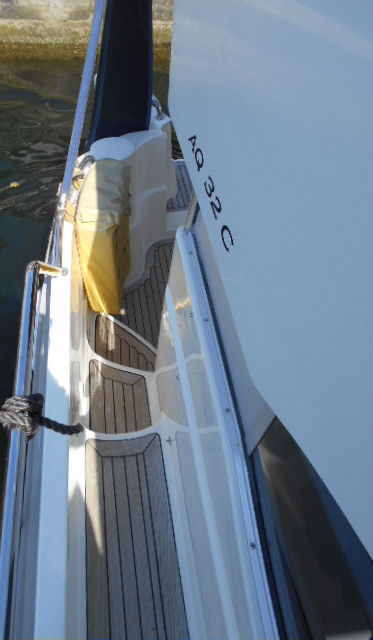 steps down to cockpit, life belt,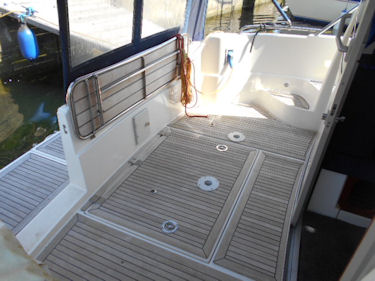 nice big cockpit area, shown with aft seat folded up, (there is a full set of cushions stored inside)
note twin table leg sockets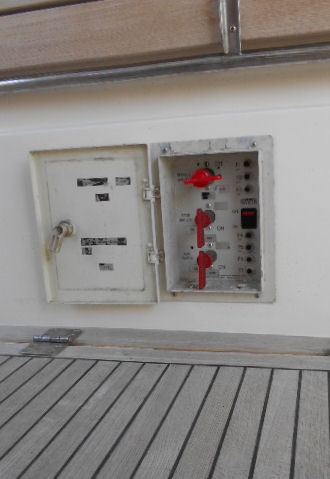 battery switches aft, and main 12v Breakers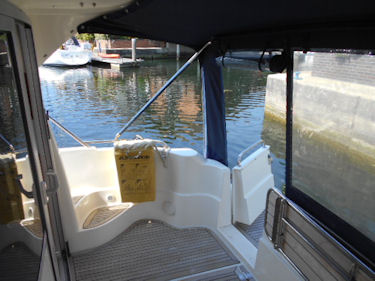 starboard view, lights at steps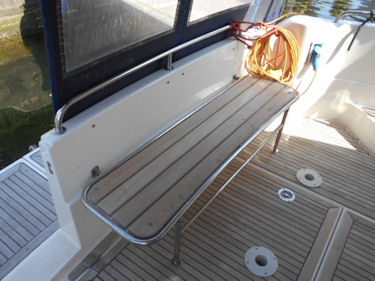 seat drops to legs,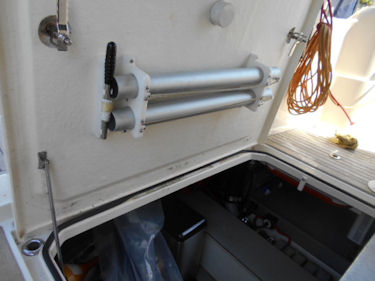 and aft deck hatch lifted neat shows table leg stowage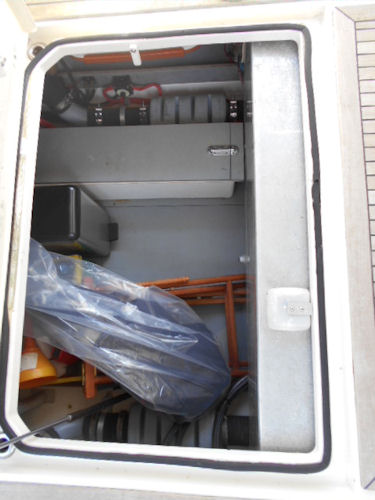 plenty of room in here, plastic bag contains new aft coakpit cover side panels. , bttery box grey top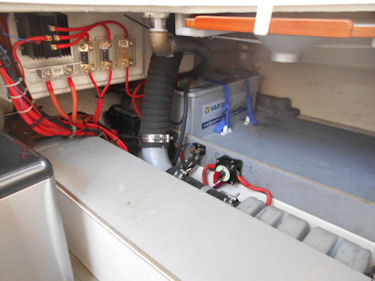 decent heavy wiring and switching, (extra for stern thruster)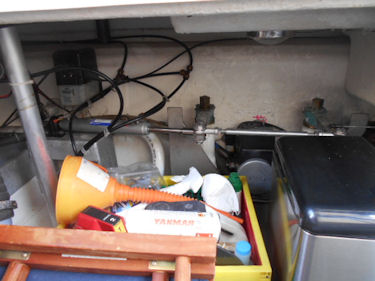 aft easy to Hydraulic ram and steering gear, trim tab pump left of shot note light over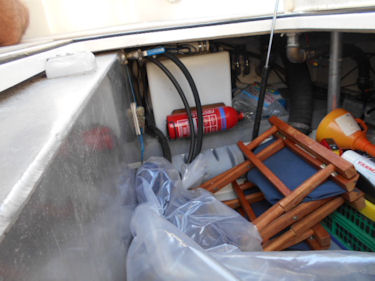 starboard side, waste tank, with auto extinguisher attached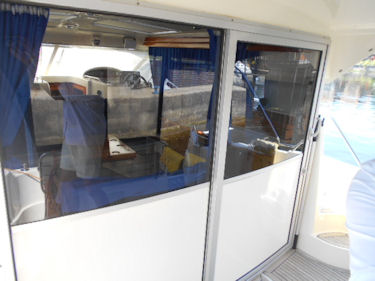 big sliding doors,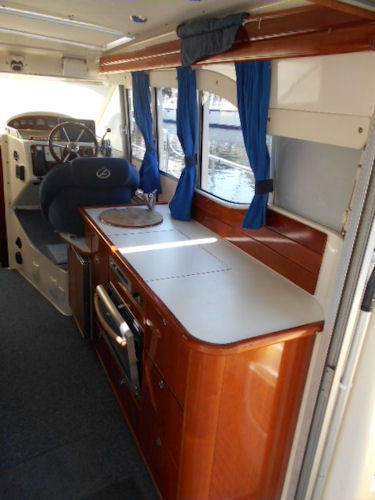 galley to starboard, ( diesel fired "Safe Flame" cooker and oven, NO GAS aboard, and no deciding if you need a new bottle etc..
whilst some people say they are a bit slow to start up, they are certainly FAR safer than having gas aboard,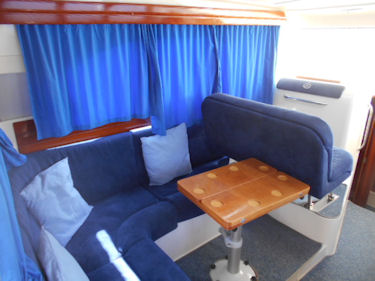 dinette set to port, copilot seat shown facing forward,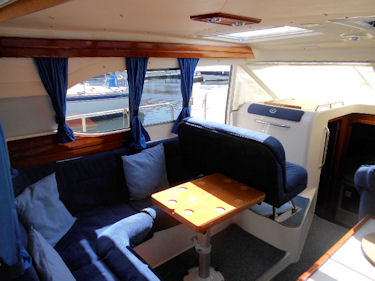 tye upholstery is in excellent near new order, Table folds open twice the size,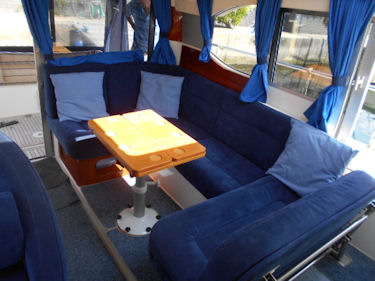 Copilot seat now facing aft,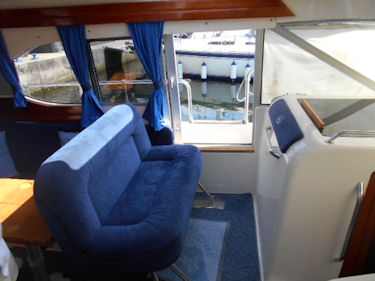 this seat will sit two with ease, and open door, and hatch over makes a great OPEN feel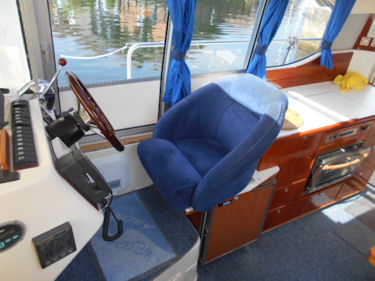 helm set to starboard, the seat has a lifting Bolster so should you wish to stand at the helm it gives you room.
Battery indicator is set with heating controls left of shot
Fridge under the helm seat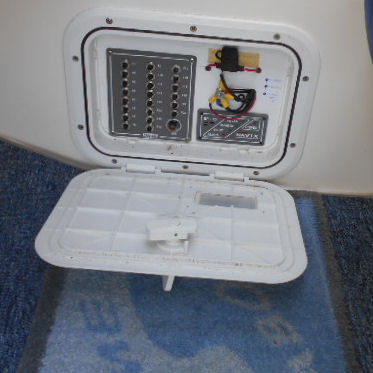 domestic breakers and a handy 12v socket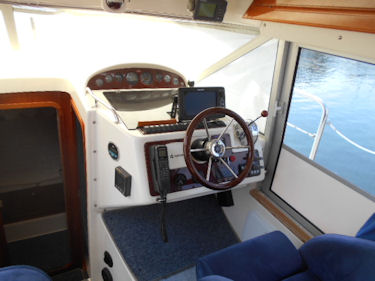 exit right out of door, does help get on to pontoon in a hurry if single handed..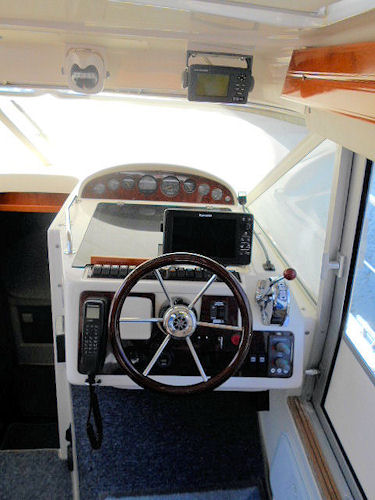 Neat dash, the narrow screen pillars do help great vision when the cover is off!
bow and stern thruster joy sticks right of wheel,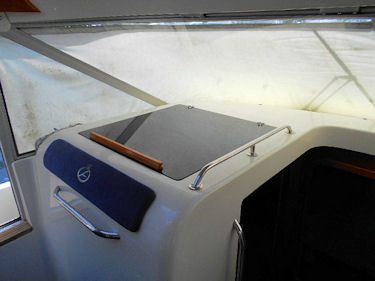 room for a chart, and store under to keep some more..nice grabs all around the boat
forward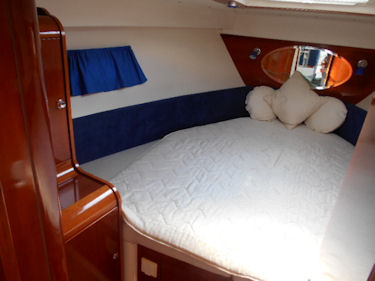 double berth on the centreline, opening port each side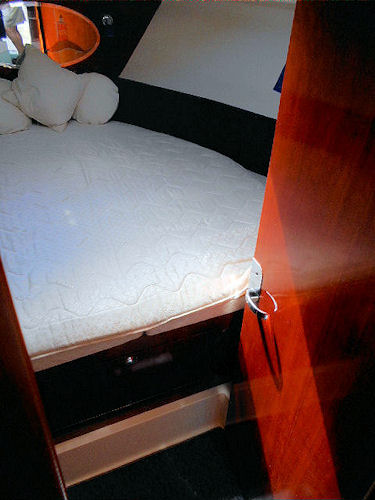 matteress topper to this and side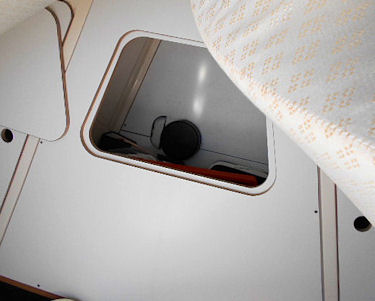 bow prop access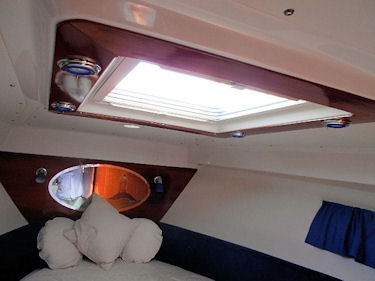 deck hatch with four nice downlighters, and insect and blackout screen
port side, hanging locker, rather nice unmarked high gloss woodwork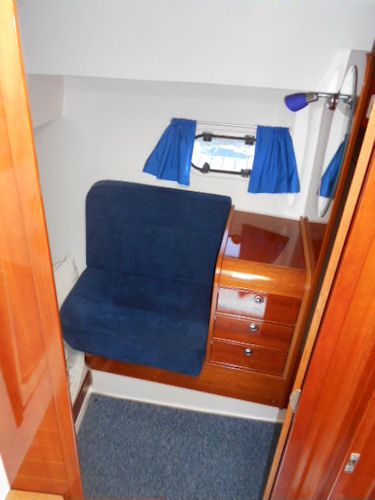 port side cabin, with dressing seat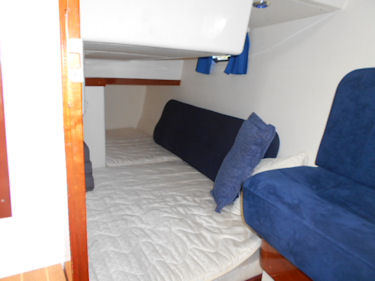 looking aft, Note cockpit seat cushion stored in here two opening ports on hull side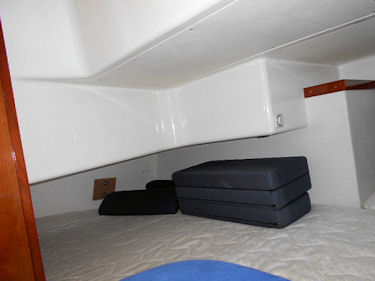 looking across the ship, more infill cushions for dinette,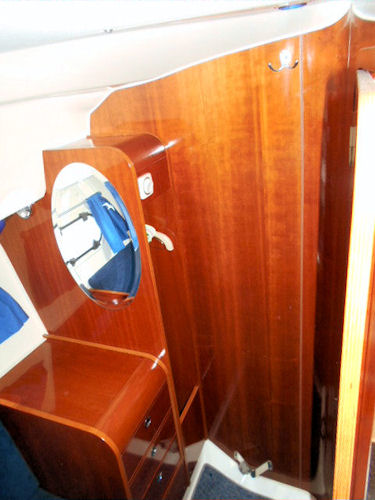 looking forward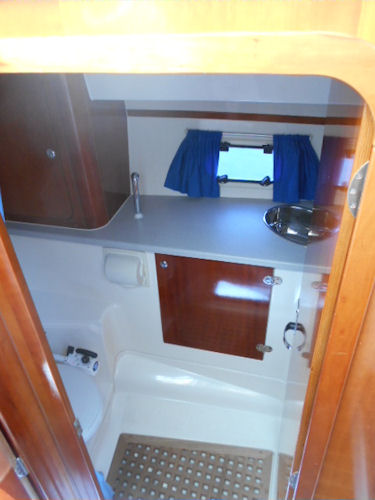 heads/shower set to starboard, manual heads,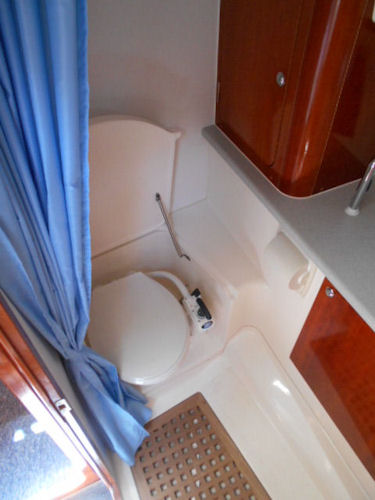 with neat lift cover (for shower use.)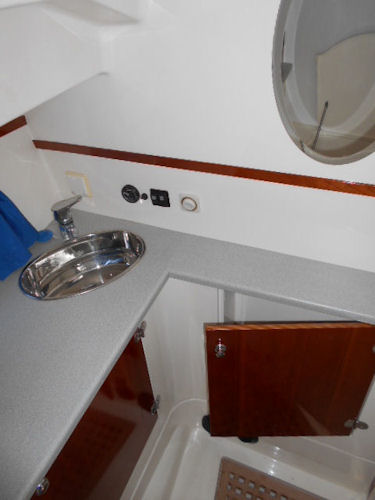 aft bulkhead, electric shower pump, and waste tank pump out and guage etc. heater outlet at floor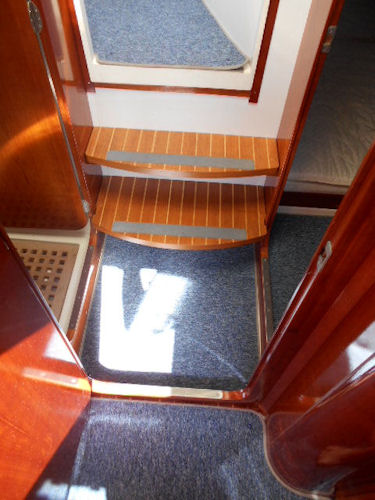 steps back up to saloon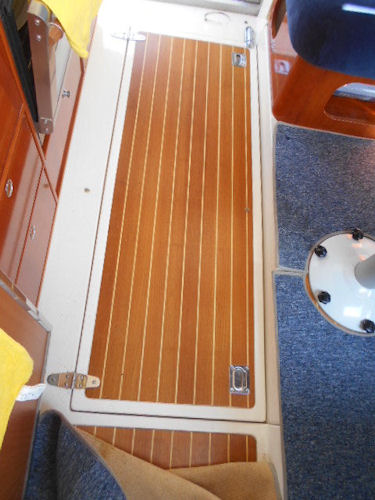 loose carpet lifted to show starboard side engine space hatch,,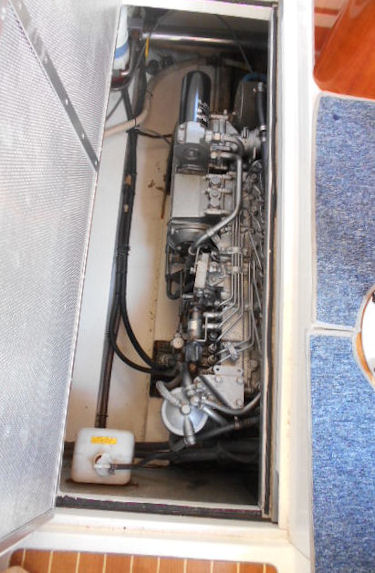 neat and clean in here, the right side ( as looking) also lifts once you have removed table and folded aft seat up,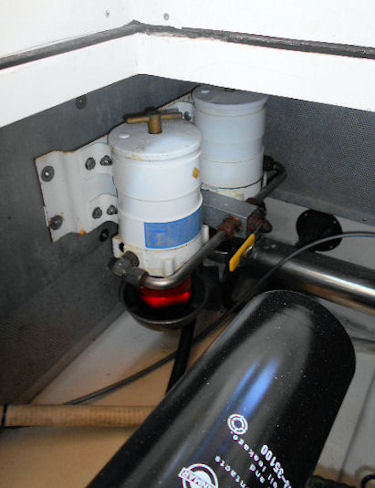 FIRST worthwhile expense on a single engined craft in my view, good big filter change over,,
that is probably 85% of the reason for a problem at sea dealt with !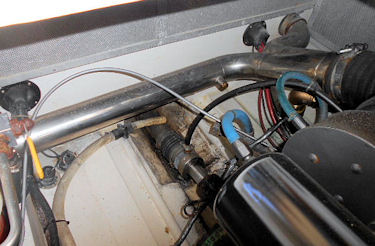 you can see the exhaust clamp on to the stainless pipe right of shot, which then splits in two to exit both side of the boat
NOTE this boat has a FAR better than standard one custom made and fitted as this is a common issue on these boats, (well, in my experience.)
note it has a drain and anode point fitted also, you can also see the water lubriacted shaft seal/ exit point here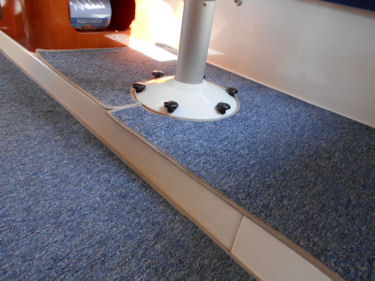 the table is held by simple grub screws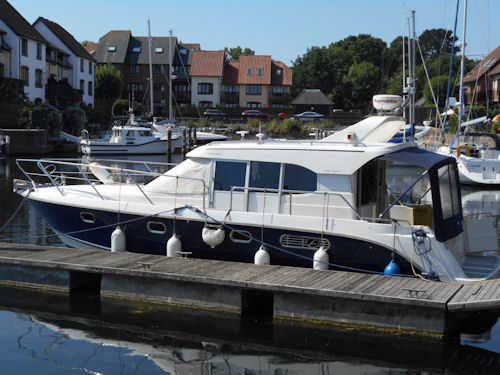 port side , neat and tidy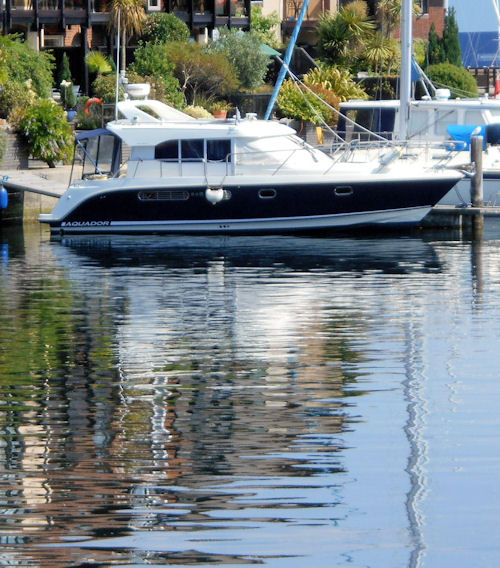 smart well proportioned lines.